Animal Welfare Research Status

Beef industry notes welfare concerns, works to address.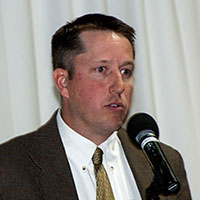 Jason Ahola said he didn't intend to defend activists or question industry practices, but rather to educate industry participants on animal welfare-related issues associated with beef cattle and the science driving their evaluation.
LOVELAND, Colo. (Nov. 17, 2015) — Most wouldn't guess that the beef industry and the Humane Society of the United States (HSUS) have much in common. However, both have identified similar areas of beef cattle welfare that could be improved. Jason Ahola, associate professor in beef production systems at Colorado State University, shared research areas of animal welfare with attendees of the Range Beef Cow Symposium in Loveland, Colo., Nov. 17-19.
Ahola said he didn't intend to defend activists or question industry practices, but rather to educate industry participants on animal welfare-related issues related to beef cattle and the science driving their evaluation. He shared an inward-focused Beef Checkoff-funded white paper that determined eight areas of welfare concerns that the beef industry can address.
1. Nutrition and growth. Issues include abrupt weaning, disease associated with high-concentrate diets, borderline body condition scores in winter, ionophores and hormonal implants.
2. Health issues of concern include lameness and respiratory issues like bovine respiratory disease.
3. Painful procedures and no pain mitigation during castration, dehorning and branding.
4. Winter weather and resulting mud.
5. Heat load and access to shade and water to alleviate heat stress.
6. Social interaction causing disease and injury concerns increased through commingling of cattle at auction markets or high stocking rates.
7. Transport issues of space, feed and water withdrawal, distance traveled, rest intervals and unloading.
8. Slaughter, which he granted was not much of an issue anymore. It was probably the No. 1 issue about 30 years ago.
Surprisingly, HSUS identified five of these as their main complaints with the beef industry. Its top five issues were:
1. abrupt weaning;
2. calf transport;
3. castration;
4. dehorning; and
5. branding.
While these concerns are similar, HSUS calls castration, dehorning and branding "painful mutilations," which is certainly off-putting to consumers.
In regard to pain-management practices, the issue of pain mitigation is a tricky situation. Currently, Ahola explained, there are no drugs approved by the U.S. Food and Drug Administration (FDA) for pain relief in beef cattle.
There are few options at the moment for extra-label drug use through the Animal Medicinal Drug Clarification Act (AMDUCA). This act allows extra-label drug use to relieve suffering if it is administered under the supervision of a veterinarian, used only with FDA-approved animal and human drugs, used only when the animal's health is threatened, not administered through feed, and if the drug residue will not reach the food chain.
Ahola shared additional research projects intended to develop standards for measuring animal welfare. Such research projects include focuses on exit velocity, video-based evaluation, chute scores, in-pen behaviors and branding.
This research will hopefully guide animal-welfare standards, because current standards are not science-based, he noted. Consumers are increasingly concerned with production methods, and the beef industry should take the lead on addressing these concerns, he concluded.

Editor's Note: This summary was written under contract or by staff of the Angus Journal®, which retains the copyright. To request to reprint this article, contact Shauna Rose Hermel, editor, at 816-383-5270. PowerPoints are posted with permission of the presenter and may not be reproduced in whole or in part without the express permission of the presenter. Angus Journal claims copyright to this web site as presented. We welcome educational venues and cattlemen to link to this site as a service to their audience.
The Angus Journal's coverage of the event is made possible through collaboration with the event committee and sponsorship of LiveAuctions.tv. For questions about this site, or to notify us of broken links, click here. Look for additional coverage in the Angus Journal, the Angus Beef Bulletin, the Angus Journal Daily, the Angus Beef Bulletin EXTRA and Angus TV.