How Will Weather Impact Grazing Conditions?

LOVELAND, Colo. (Nov. 18, 2015) — Maybe it's because he grew up on a ranch in a part of the country where rain is often scarce. It's surely because he's been fascinated by weather ever since he was a high school student in Limon, Colo. The fact is, TV weatherman Brian Bledsoe is perpetually worried about the next dry spell.
"I'm always thinking about drought. It is the worst kind of weather phenomenon," admits the Colorado Springs meteorologist. "Cattle producers should be thinking about drought, too, and prepare for it."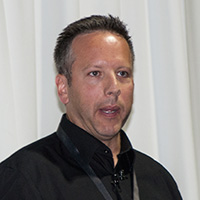 TV weatherman Brian Bledsoe
Bledsoe talked about what he foresees weather-wise to an audience of cattle producers gathered for Range Beef Cow Symposium XXIV Nov. 17-19 in Loveland, Colo. He said that outside of a few dry spots, much of cow country is in "pretty good shape." Yet Bledsoe thinks his worst weather woe is likely to return in the not too distant future.
Bledsoe talked about how sea surface temperature anomalies in the Pacific and Atlantic oceans can dramatically influence weather patterns. A cool temperature phase in the Pacific, often referred to as La Niña, typically brings dry weather to much of the western United States. A warm Pacific sea surface temperature phase, or El Niño, relaxes drought conditions. El Niño is present now, but Bledsoe thinks it will end by late spring 2016.
"El Niño should peak in the next month or so and begin to rapidly diminish as conditions shift toward La Niña," predicted Bledsoe, explaining that a cool Pacific coupled with warm surface temperatures in the Atlantic set the stage for drier conditions during the next few years.
Near term, Bledsoe expects relief from terribly dry conditions in California. Late winter and spring could be wet in much of the eastern United States. Spring should bring some moisture to the High Plains and western Corn Belt, but in lesser amounts moving southward.
"Texans have been restocking their herds like crazy," said Bledsoe, "but they should be careful. Expanding too much with high-dollar females could be a disaster if it turns dry, which it could," warned Bledsoe, saying he expects a trend toward dry conditions. He looks for it to be driest south of I-80, and especially south of I-70.
"My message is that, going forward, wet periods are likely to be shorter and less frequent. Periods of drier conditions will become normal," stated Bledsoe. "My advice is 'Have a drought plan.'"
Editor's Note: This summary was written under contract or by staff of the Angus Journal®, which retains the copyright. To request to reprint this article, contact Shauna Rose Hermel, editor, at 816-383-5270. PowerPoints are posted with permission of the presenter and may not be reproduced in whole or in part without the express permission of the presenter. Angus Journal claims copyright to this web site as presented. We welcome educational venues and cattlemen to link to this site as a service to their audience.
The Angus Journal's coverage of the event is made possible through collaboration with the event committee and sponsorship of LiveAuctions.tv. For questions about this site, or to notify us of broken links, click here. Look for additional coverage in the Angus Journal, the Angus Beef Bulletin, the Angus Journal Daily, the Angus Beef Bulletin EXTRA and Angus TV.