Neonatal Care

LOVELAND, Colo. (Nov. 18, 2015) — Fifty percent of beef calf death loss occurs within the first 24 hours of birth, and 70% of calf death loss occurs within three days after birth. Because of those statistics and the resulting impact on cow-calf income and profitability, Colorado State University professor Frank Garry emphasized the importance of monitoring and assisting newborn calves when needed after birth.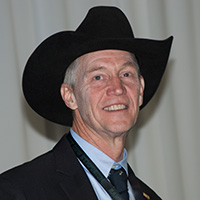 Colorado State University professor Frank Garry
He noted that "normal" newborn calves should experience an uncomplicated vaginal delivery, stand within one hour, experience good mothering, maintain a body temperature of 101-102° F, be actively suckling within 2 hours and be attentive, responsive and active.
When newborn calves do not experience this normal course of events, Garry advises producers to focus on three strategies when working with calves that need neonatal assistance:
1) Stimulate respiration. To help calves breathe he suggests positioning calves in "sternal recumbency" – placing calves on their chest with legs forward so the lungs are vertical and can take in more oxygen. Mucus in the upper airway should be removed via suction or positive pressure ventilation and vigorous rubbing. Calves may require oxygen therapy. This can be accomplished using a small rubber catheter connected to an oxygen source and placed in the nose.
2) Body temperature regulation. A calf's body temperature should not drop below 101°. If it does, Garry says that is an indicator the calf needs some assistance. To help weak or compromised newborn calves improve their body temperature, they should be dried immediately using blankets, heaters or hair dryers. Providing straw or other bedding also helps reduce heat loss. He notes that supplemental heat sources may needed for up to 24 hours for compromised calves after birth.
3) Administer colostrum. Garry notes that most producers recognize that colostrum is essential for the immunoglobulins and immunity building it provides. But equally important he says is that colostrum provides fluid to the newborn calf, which helps increase blood volume and thereby improves circulation and addresses acidosis. As well, Garry emphasizes that colostrum also provides the calf an important source of energy, which helps calves regulate their body temperature.

Editor's Note: This summary was written under contract or by staff of the Angus Journal®, which retains the copyright. To request to reprint this article, contact Shauna Rose Hermel, editor, at 816-383-5270. PowerPoints are posted with permission of the presenter and may not be reproduced in whole or in part without the express permission of the presenter. Angus Journal claims copyright to this web site as presented. We welcome educational venues and cattlemen to link to this site as a service to their audience.
The Angus Journal's coverage of the event is made possible through collaboration with the event committee and sponsorship of LiveAuctions.tv. For questions about this site, or to notify us of broken links, click here. Look for additional coverage in the Angus Journal, the Angus Beef Bulletin, the Angus Journal Daily, the Angus Beef Bulletin EXTRA and Angus TV.