Using a Cover Crop for Grazing Options

LOVELAND, Colo. (Nov. 18, 2015) — Producing, high-quality cattle, forage and grain with management practices that foster the best stewardship of land, livestock, soil and human resources is how Nancy Peterson describes the mission of Plum Thicket Farms. Peterson addressed Range Beef Cow Symposium attendees Nov. 18 in Loveland, Colo.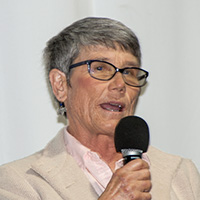 Nancy Peterson
The family's operation is located at Gordon, Neb., and includes 563 acres of irrigated farmland, 1,774 acres of dryland farm ground, 2,230 acres of deeded native pasture, 1,850 acres of leased pasture and 380 acres of leased cornstalks. In 2015, they ran nearly 300 cow-calf pairs, 100 yearling heifers, 500 stocker steers from May through July, and a couple hundred head of steers and yearling heifers they are carrying over to 2016.
Peterson says, "Pasture is our most limiting factor." Despite that, they've found a way to maintain an 11-month grazing season.
How?
"We graze annual forages," Peterson reports. They utilize rye to calve on in May; they graze sorghum swathes in winter; and they graze cover crops following wheat, oats or other spring mixes. Additionally, they utilize crop residues, mainly cornstalks, and mob-graze dry-land cool- and warm-season forage cocktail mixes.
Peterson admits there is a learning curve to some of the forage crops and grazing tactics they've used, but she says the effort has been worth the investment to improve their soil and environment for the future.
Among the most important tips she offers for an intensive-grazing management scheme is the need for flexibility. As an example, when mob grazing forage cocktails she says, "You must have a population that can flex because it is totally dependent on the weather and adequate rainfall."
She adds, "If you take in stockers, make sure your contract specifies there removal in case of drought, hail, fire or too much rain."
Another caution that Peterson issues: If you are coming off mature native pasture onto a lush cover crop, you could lose cows to cow asthma, or atypical interstitial pneumonia (API).
"Begin feeding a rumensin containing range block three to four days before moving them to the cocktail and continue for the first couple of weeks," she advises. "This should remove the risk."

Editor's Note: This summary was written under contract or by staff of the Angus Journal®, which retains the copyright. To request to reprint this article, contact Shauna Rose Hermel, editor, at 816-383-5270. PowerPoints are posted with permission of the presenter and may not be reproduced in whole or in part without the express permission of the presenter. Angus Journal claims copyright to this web site as presented. We welcome educational venues and cattlemen to link to this site as a service to their audience.
The Angus Journal's coverage of the event is made possible through collaboration with the event committee and sponsorship of LiveAuctions.tv. For questions about this site, or to notify us of broken links, click here. Look for additional coverage in the Angus Journal, the Angus Beef Bulletin, the Angus Journal Daily, the Angus Beef Bulletin EXTRA and Angus TV.