Partial-Confinement Systems for Cows

LOVELAND, Colo. (Nov. 17, 2015) — Why would cow folk accustomed to maintaining their breeding herds on range and pasture consider keeping cows in confinement? According to University of Nebraska Cow-Calf and Range Specialist Karla Jenkins, drought may be the reason. It might be because conversion to crop production or other uses has limited the availability of grazing land. It could be because pasture rents have become expensive.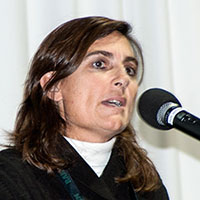 Karla Jenkins
In a presentation delivered during the 24th Range Beef Cow Symposium hosted Nov. 17-19 in Loveland, Colo., Jenkins said feeding cows in confinement, at least part of the time, may be a way to expand herd numbers and bring more family members into an operation. Whatever the reason or reasons, Jenkins said managing cows in confinement can work.
Perhaps most appealing is a partial-confinement system in which the breeding herd is fed in confinement for part of the year, and range and pasture is utilized strategically at times when grass is most nutritious. Alternatively, a management system could winter-graze cows on cornstalks or other crop residues and confine cows in the summer. Alternatives to confinement in a typical feedlot setting include feeding the herd in a relatively small sacrifice pasture or the corners of pivot-irrigation systems.
If producers do choose to manage cows in confinement, Jenkins recommended limit-feeding the animals. She warned that letting cows eat all they want is not economical. Rather, cows should be fed rations that meet their nutritional requirements, with dry-matter intake limited to no less than 2% of body weight.
"A limit-fed ration must contain energy-dense ingredients, such as grain byproducts, which can be mixed with low-quality forages," Jenkins emphasized, noting how baled cornstalks and other crop residues, straw and low-quality hay can be cost-effective ration ingredients.
"But producers must know the nutrient content of the feed ingredients, and they must understand the nutrient requirements of their cows. Requirements change with stage of production and reproduction, so the diet must be manipulated by adjusting ingredients or the amount of ration fed," cautioned Jenkins. When balancing rations incorporating byproduct feedstuffs, she advised producers to use nutrient values produced by universities for feeding trials.
Producers were advised to allow ample bunk space, particularly if confined cows have calves at side. Jenkins said calves often start sampling feed early, and rations amounts must be adjusted as they begin consuming feed. Calves must also have easy access to water, as milk consumption alone is not sufficient for rumen development in young animals.
Editor's Note: This summary was written under contract or by staff of the Angus Journal®, which retains the copyright. To request to reprint this article, contact Shauna Rose Hermel, editor, at 816-383-5270. PowerPoints are posted with permission of the presenter and may not be reproduced in whole or in part without the express permission of the presenter. Angus Journal claims copyright to this web site as presented. We welcome educational venues and cattlemen to link to this site as a service to their audience.
The Angus Journal's coverage of the event is made possible through collaboration with the event committee and sponsorship of LiveAuctions.tv. For questions about this site, or to notify us of broken links, click here. Look for additional coverage in the Angus Journal, the Angus Beef Bulletin, the Angus Journal Daily, the Angus Beef Bulletin EXTRA and Angus TV.