Why Does Consumer Opinion Trump Science?

Livestock producers need to reconnect with consumers to learn what drives them.
LOVELAND, Colo. (Nov. 17, 2015) — "We have a culture shift occurring," Ronnie Green stated during his remarks designed to provide insight about consumers to attendees at the kick-off of the 24th Range Beef Cow Symposium Nov. 17 in Loveland, Colo. Due to a flight delay caused by weather, Green, who serves as the vice chancellor for the Institute of Agriculture and Natural Resources at the University of Nebraska, addressed the audience via telephone.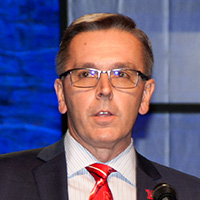 Ronnie Green explained that many consumers have a selective belief in science.
Green pointed out that one of the observations he has made among society and consumers is a change in language. He related that 20 to 25 years ago, most consumers' comments were framed by statements like "I know …" or "The facts clearly prove …." However, today the basis for many consumers' comments are framed by statements like "I believe …" and "In my opinion …."
Green said this is representative of the move from today's society being influenced by opinion rather than science, which was the primary influencer in the past.
"This is the root of the issue we are dealing with," he said. "There is a big difference between 'I know' and 'I believe.'"
Along with this, Green said there is a fiercely held anti-belief system among today's consumers against big, corporate, industrial and capitalistic.
Likewise, many people today have a selective belief in science, Green said. "Many consumers choose to believe in science that supports issues that match their agenda, but choose not to believe in science that supports issues they are opposed to." For example, Green explained, some individuals may support climate change science, but they do not support biotechnology science.
Looking forward, Green said he is concerned that the beef industry will increasingly be misunderstood and misrepresented, specifically related to environmental issues such as water and carbon emissions.
"We need to understand the societal forces around us very well," he concluded. "We need to reconnect what livestock producers do with consumers. Future media campaigns must focus on your stewardship. That's who you are, but the public doesn't understand that. We need to get ourselves [the beef industry] ahead of that in the future."

Editor's Note: This summary was written under contract or by staff of the Angus Journal®, which retains the copyright. To request to reprint this article, contact Shauna Rose Hermel, editor, at 816-383-5270. PowerPoints are posted with permission of the presenter and may not be reproduced in whole or in part without the express permission of the presenter. Angus Journal claims copyright to this web site as presented. We welcome educational venues and cattlemen to link to this site as a service to their audience.
The Angus Journal's coverage of the event is made possible through collaboration with the event committee and sponsorship of LiveAuctions.tv. For questions about this site, or to notify us of broken links, click here. Look for additional coverage in the Angus Journal, the Angus Beef Bulletin, the Angus Journal Daily, the Angus Beef Bulletin EXTRA and Angus TV.