Getting Started in the Cattle Business

Young cattle producers give tips to getting started in the cattle industry.
LOVELAND, Colo. (Nov. 18, 2015) — The average age of farmers has been in the 50s since 1974, and it is increasingly difficult for younger cattlemen to enter the industry because of the huge capital resources necessary. However, that doesn't mean it is impossible.
Moderated by Jason Ahola, associate professor in animal science at Colorado State University, a panel of Brandon Peterson, Peterson Angus, Alcester, S.D.; Zach Thode, Livermore, Colo.; and Scott Miller, USDA Farm Service Agency (FSA), explained options for young producers to enter the beef industry. They spoke at the Range Beef Cow Symposium in Loveland, Colo., Nov. 17-19.
Brandon Peterson, Peterson Angus, Alcester, S.D.
Peterson grew up on a diversified livestock operation and admitted he initially wanted to go back to the farm after college because that was the easy answer. While studying animal science at South Dakota State University and playing football, he said a coach inspired him to dream a big dream beyond college and to write it down. He decided he wanted to own 500 Angus cows after college, though he didn't know how he was going to do it.
He started by buying five registered-Angus females with a loan cosigned by his father during college. His herd increased to 10 females by the end of college. He couldn't immediately return to the farm, so he started his career as a nutritionist. He met a mentor who allowed his to sell four bulls at the end of his sale. A few years later, he and a partner hosted their first production sale, which was largely unsuccessful. He went back to his vision and kept moving forward.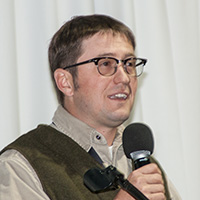 Zach Thode
Through struggles, Peterson Angus has become a successful seedstock operation, and Peterson shared some lessons and observations. Define your program and write your business plan down. Know that education never ends, and commit to keep learning new things. Embrace change and expect adversity.
Thode came from an unconventional background, having "hippy parents," though he grew up around ranches. He earned an engineering degree and manages a ranch. He recommended making all opportunities work by looking at all possibilities in each situation. For instance, he trades hunting rights for fence building or other work on the ranch.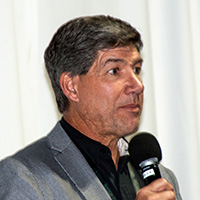 Scott Miller, USDA Farm Service Agency (FSA).
Don't be afraid to take chances, he advised young producers.
Leverage what you have. "Find ways to let each dollar work for you more than once," he suggested. By paying attention, you could find used equipment for much cheaper and just fix it.
More importantly, use relationships to grow the network around you to maximize those opportunities. He cited using conservation easements to your advantage by helping find funding for projects like fencing, livestock water and irrigation improvements.
Leave pride at the door, which can be hard for young producers, he granted. "Understand your wants and pursue your needs."
Always remember that doing what is honorable is always better than making a quick buck, because a reputation is forever, he added.
Miller explained a few funding options for beginning farmers and ranchers through FSA loan and farm programs. The FSA targets a portion of loan funds to beginning farmer and ranchers, which is not age-based, just experience-based. Beginning farmers and ranchers can not have operated the farm or ranch for more than 10 years; not own a farm greater than 30% of the average size of farm in their county by the most current Census for Agriculture; meet loan eligibility requirements; and substantially participate in the operation.
For more information about FSA funding options, he suggested meeting with a local FSA agent or by visiting www.fsa.usda.gov/FSA/webapp?area=home&subject=prod&topic=bfl.
Editor's Note: This summary was written under contract or by staff of the Angus Journal®, which retains the copyright. To request to reprint this article, contact Shauna Rose Hermel, editor, at 816-383-5270. PowerPoints are posted with permission of the presenter and may not be reproduced in whole or in part without the express permission of the presenter. Angus Journal claims copyright to this web site as presented. We welcome educational venues and cattlemen to link to this site as a service to their audience.
The Angus Journal's coverage of the event is made possible through collaboration with the event committee and sponsorship of LiveAuctions.tv. For questions about this site, or to notify us of broken links, click here. Look for additional coverage in the Angus Journal, the Angus Beef Bulletin, the Angus Journal Daily, the Angus Beef Bulletin EXTRA and Angus TV.