Leachman Recommends Cows
That Fit the Cattle Cycle

LOVELAND, Colo. (Nov. 16, 2015) — It's not that things will never be good again. Long-term, Colorado seedstock breeder Lee Leachman is bullish on the beef business. However, he believes the next few years could become increasingly challenging for cow-calf producers. Leachman shared this warning and some advice during a seminar presented on the eve of the 24th semi-annual Range Beef Cow Symposium hosted Nov. 17-19 at The Ranch, Loveland, Colo.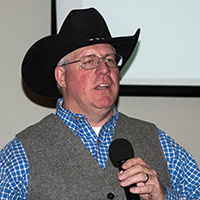 Lee Leachman
"The tides have changed," stated Leachman, noting a "global glut" of commodities. "The U.S. dollar has appreciated and (investor) money is running to safety. Commodity prices are trending lower and will continue to weaken until we work through the supply surplus."
Leachman said the trend applies to beef, as well, citing the now growing supply and questionable demand, both domestically and in the export markets. It all shapes up for a negative price trend. Assuming a corn price around $4 per bushel, Leachman predicted fed-cattle prices could drop down to $1.15 per hundredweight.
"What that means to the cow-calf producer is a 550-pound steer calf will probably be worth $900 to $1,050. That really wouldn't be too bad," stated Leachman, "if production costs aren't too high."
In their efforts to control costs, Leachman advised his audience to remember some key drivers of profitability for a cow-calf enterprise:
Production, in terms of calf weight
Reproduction, with emphasis on calving ease (live calves), having heifers become pregnant by 15 months of age, and having all females breed back early
Increased female longevity to reduce replacement costs
Controlling cow maintenance costs with cows that require less feed.
Leachman stated his belief that profitability can best be achieved when producers address herd genetics by applying selection pressure for traits associated with superior reproductive performance, cow longevity, and reduced cow feed intake. It can be done without sacrificing production output, stated Leachman, adding that the selection for the right kind of cows is the best way to achieve profitability throughout the cattle cycle.
Editor's Note: This summary was written under contract or by staff of the Angus Journal®, which retains the copyright. To request to reprint this article, contact Shauna Rose Hermel, editor, at 816-383-5270. PowerPoints are posted with permission of the presenter and may not be reproduced in whole or in part without the express permission of the presenter. Angus Journal claims copyright to this web site as presented. We welcome educational venues and cattlemen to link to this site as a service to their audience.
The Angus Journal's coverage of the event is made possible through collaboration with the event committee and sponsorship of LiveAuctions.tv. For questions about this site, or to notify us of broken links, click here. Look for additional coverage in the Angus Journal, the Angus Beef Bulletin, the Angus Journal Daily, the Angus Beef Bulletin EXTRA and Angus TV.