Encouragement for Young Producers

LOOVELAND, Colo. (Nov. 17, 2015) — Range Beef Cow Symposium planners put extra effort into enticing young and aspiring cattle producers to the 24th semi-annual event hosted Nov. 17-19 in Loveland, Colo. Along with offering a reduced registration fee, special events were scheduled, including the Young Producers' Breakfast featured on the morning of Tuesday, Nov. 17. Guest speaker Troy Marshall offered encouraging words to an audience of about 100 young men and women.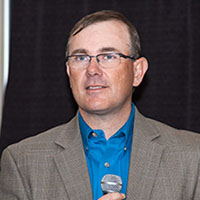 "I really believe that today, more than ever, we have more opportunity to build an empire," Troy Marshall said. "The future of agriculture is bright!"
Marshall and his wife, Lorna, own Marshall Cattle Co., a Burlington, Colo., seedstock operation marketing about 120 bulls annually. Marshall is also known for the beef industry commentaries he writes for BEEF magazine.
"Getting started in the cow business was something like riding a bicycle uphill. And now that we're finally about to crest the hill, our college freshman son tells us he would like to come back, after graduation, and join the operation," said Marshall, allowing that he and his wife will have to start pedaling harder to prepare.
"We're in this business to give our kids that opportunity if they want it," Marshall added.
For young people hoping to engage in the cattle business, Marshall said he believes there is ample opportunity. However, he warned that competition is fierce, and lower levels of profitability are typical among operations producing commodity products. That's why he and his wife chose to pursue a seedstock enterprise. Marshall challenged aspiring producers to find a way to differentiate themselves and their product.
He also advised young producers to have a vision, make a plan, then pursue it with persistence, passion and patience. He urged them to focus on their strengths and find ways to mitigate weaknesses.
"Apply out-of-the-box thinking, which really means 'where there's a will, there's a way," Marshall advised.
He recommended adoption of nine habits of profoundly influential people, saying:
They think for themselves.
They are gracious disrupters, unafraid to ask, "What if …?" and "Why not?"
They inspire conversation.
They leverage their networks.
The focus on what really matters.
They welcome disagreement, without being offended when challenged.
They are proactive and early-adopters.
They respond rather than react.
They believe nothing is out of reach, and one person really can change the world.
"I really believe that today, more than ever, we have more opportunity to build an empire," Marshal concludedl. "The future of agriculture is bright!"
Editor's Note: This summary was written under contract or by staff of the Angus Journal®, which retains the copyright. To request to reprint this article, contact Shauna Rose Hermel, editor, at 816-383-5270. PowerPoints are posted with permission of the presenter and may not be reproduced in whole or in part without the express permission of the presenter. Angus Journal claims copyright to this web site as presented. We welcome educational venues and cattlemen to link to this site as a service to their audience.
The Angus Journal's coverage of the event is made possible through collaboration with the event committee and sponsorship of LiveAuctions.tv. For questions about this site, or to notify us of broken links, click here. Look for additional coverage in the Angus Journal, the Angus Beef Bulletin, the Angus Journal Daily, the Angus Beef Bulletin EXTRA and Angus TV.