Animal Welfare and Public Perception

Public wants animal husbandry, not industrialized ag, says CSU professor.
by Kindra Gordon for Angus Productions Inc.
CASPER, Wyo. (Dec. 1, 2009) — Addressing animal welfare issues, Colorado State University's Bernard Rollin gave a candid presentation to attendees at the 21st Range Beef Cow Symposium in Casper, Wyo.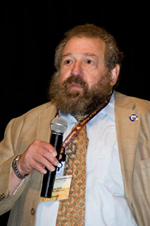 "A friend is someone who tells you what you need to hear - not what you want to hear," CSU's Bernie Rollin told cattlemen as he discussed animal welfare issues.Rollin, who is a distinguished professor of philosophy, animal sciences and a university bioethicist, introduced himself as a "friend of the beef industry for the last 25 years," and said, "I understand the beef industry."
But, he added, "A friend is someone who tells you what you need to hear — not what you want to hear." To that point Rollin told beef producers in attendance that as the public's focus on animal welfare issues intensifies the beef industry will need to adapt. Specifically, he said, "Your industry has got to get rid of hot-iron branding, dehorning without anesthesia and castration without anesthesia."
Rollin did compliment ranchers for their livestock care efforts. "The public wants animal husbandry, and you practice animal husbandry," he said. "You practice it in spades."
"Cow-calf is exactly what the public wants," he added. "You are still animal husbandry that did not sell out to industry. There is a difference between what you — the beef industry — do and what other livestock industries do."
To that Rollin pointed out, "You are not the poultry industry or the swine industry, and that's your saving grace."
Beef must market itself as producing an ethical, humane, sustainable product, Rollin said. "There's nothing more humane than Western ranching."
Rollin concluded by noting that animal welfare does identify many legitimate concerns. Industries must address the issues (such as hot-iron branding) that are not acceptable, he said. "Deal with it in a way you can manage. … If you handle this properly you can make it an opportunity, not a threat. You've got to change the way you think, because if you don't you'll have management by referendum." 

Editor's Note: API's coverage of the event is made available for distribution to all media via an agreement with the Range Beef Cow Symposium Committee and API. Headquartered in Saint Joseph, Mo., API publishes the Angus Journal, the Angus Beef Bulletin, the Angus Beef Bulletin EXTRA, and the Angus e-List, as well as providing online coverage of events and topics pertinent to cattlemen through the API Virtual Library. For questions about this site, or to notifiy us of broken links, click here.