Cattle Outlook

Rapid change, better global beef demand are on the horizon.
by Kindra Gordon for Angus Productions Inc.
CASPER, Wyo. (Dec. 3, 2009) — Cattle-Fax economist Brett Stuart painted a global picture that will be increasingly important to the U.S. beef industry as he addressed participants of the 21st Range Beef Cow Symposium during its closing session in Casper, Wyo., Dec. 3.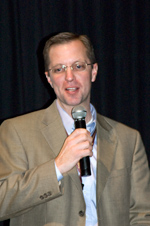 "Global beef consumption is expected to increase by 8.5 million metric tons by 2018. That is only nine years away," Brett Stuart of Cattle-Fax reported."We've got a lot of things going on around the world that affect our beef industry," Stuart said. During the last two years, American beef producers have been affected by the financial disruptions on Wall Street and internationally. But, he reported, the global stock market is correcting, which is an indication that the economy is recovering and the recession is over.
Here in the U.S., the recovery is still lagging. Stuart explained that the Dow Jones is up 52% over the last six to eight months, but it is still down 20% from January 2008, and unemployment has remained high, retail sales are weak and consumers are still concerned.
"So, we are far from over here in the U.S.," Stuart said.
U.S. beef demand has also seen a declining trend, and the beef cow inventory is the smallest herd on hand since 1963. And, inventory numbers do not show signs of expansion occurring.
Stuart explained that a healthy industry is one that is growing, but, he added, "Considering demand right now, being on the tight side of supplies is where we need to be right now; it's actually a good thing."
For beef producers, the optimistic news lies in global food demand. He shared that projections call for the world population to grow — and the fact that beef and dairy production will need to double by the year 2050 to feed the world.
"Global beef consumption is expected to increase by 8.5 million metric tons by 2018. That is only nine years away," Stuart said. "If we want to tap that export market, we need to be committed to the international consumer."
Today, the U.S. exports only 7% of its beef production. Stuart said the U.S. will need to continue gaining international market access by resolving trade issues such as traceability, hormone and BSE bans, and other consumer concerns. "All of these things limit our ability to trade," he noted.
In the future, beef promotion will also be important. Currently, Australia is outspending the U.S. 7-to-1 on beef promotion to foreign countries, Stuart said.
For more information visit www.cattlefax.com.

Editor's Note: API's coverage of the event is made available for distribution to all media via an agreement with the Range Beef Cow Symposium Committee and API. Headquartered in Saint Joseph, Mo., API publishes the Angus Journal, the Angus Beef Bulletin, the Angus Beef Bulletin EXTRA, and the Angus e-List, as well as providing online coverage of events and topics pertinent to cattlemen through the API Virtual Library. For questions about this site, or to notifiy us of broken links, click here.