Select for Disease Resistance

Research indicates selection for resistance to BRD is possible.
by Troy Smith for Angus Productions Inc.
CASPER, Wyo. (Dec. 2, 2009) — Researchers at Colorado State University (CSU) are working to determine whether the presence or absence of certain genes determines an animal's ability to resist disease. During the 2009 Range Beef Cow Symposium in Casper, Wyo., Colorado State University graduate student Brian Brigham described ongoing studies at CSU's Center for Genetic Evaluation of Livestock.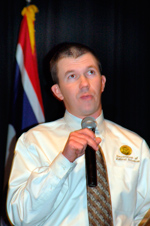 CSU research has yielded an estimated heritability of BRD resistance of up to 0.18, graduate student Brian Brigham said.Brigham said past research involving beef animal resistance to horn flies and ticks showed genetic selection for resistance to parasites is possible. Success in this area has prompted studies related to resistance to bovine respiratory disease (BRD). Thus far, the CSU research has yielded an estimated heritability of up to 0.18.
"That suggests we can start to select for resistance to BRD. We need more data, but there is ample incentive to get it," Brigham said, citing the estimated $3 billion the beef industry spends on prevention and treatment of respiratory disease in cattle.
CSU researchers hope to develop DNA tests for identifying animals that are genetically superior with regard to feedlot health. Year 1 results of the study also suggest animals entering the feedlot at heavier weights are more resistant to sickness, as are those subject to the least amount of processing stress. Animals that do become sick typically perform well below contemporaries that remain healthy. Brigham said temperament also appears to have an affect on average daily gain.

Editor's Note: API's coverage of the event is made available for distribution to all media via an agreement with the Range Beef Cow Symposium Committee and API. Headquartered in Saint Joseph, Mo., API publishes the Angus Journal, the Angus Beef Bulletin, the Angus Beef Bulletin EXTRA, and the Angus e-List, as well as providing online coverage of events and topics pertinent to cattlemen through the API Virtual Library. For questions about this site, or to notifiy us of broken links, click here.