'Meating' Global Demand

U.S. must remain focused on producing quality beef.
by Kindra Gordon for Angus Productions Inc.
CASPER, Wyo. (Dec. 2, 2009) — Global opportunities exist for fulfilling beef demand, said Clint Peck as he addressed beef producers at the 21st Range Beef Cow Symposium in Casper, Wyo. "This whole demand thing is a slug fest for the consumer's dollar, both domestically and internationally. We are duking it out against other countries and other proteins."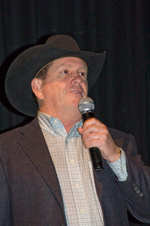 "Do what you do best, and trade for the rest," Montana State University's Clint Peck quipped.Peck, who is director of Beef Quality Assurance (BQA) with Montana State University, credited American beef producers with doing a better job today of producing a consistent beef product. And, he said, Americans should be proud of their competitive advantage, which he identified as the ability to turn cereal grains like corn into beef protein.
"We should be proud of that and use it to our advantage," he said. "Do what you do best, and trade for the rest." He pointed out that Australia and South American countries may have the corner on grass-fed beef, but America is tops when it comes to grain-fed beef.
Challenges to market access for beef exports still exist and will need to be addressed, Peck noted.
"The consumer is driving our beef industry now; they're telling us what they want," he said. This means food safety, convenience, traceability, animal welfare issues, phytosanitary concerns and high-quality beef products must all remain top of mind, both with regard to domestic and international consumers.
Peck suggested cow-calf producers understand BQA and become certified and that they measure and monitor inputs and outputs so they can continue producing the world's highest-quality beef and meeting consumer demand.

Editor's Note: API's coverage of the event is made available for distribution to all media via an agreement with the Range Beef Cow Symposium Committee and API. Headquartered in Saint Joseph, Mo., API publishes the Angus Journal, the Angus Beef Bulletin, the Angus Beef Bulletin EXTRA, and the Angus e-List, as well as providing online coverage of events and topics pertinent to cattlemen through the API Virtual Library. For questions about this site, or to notifiy us of broken links, click here.