Wildlife Diseases Still a Concern

University of Wyoming Dean provided update on CWD, brucellosis.
by Troy Smith for Angus Productions Inc.
CASPER, Wyo. (Dec. 1, 2009) — Frank Galey, dean of the University of Wyoming College of Agriculture and Natural Resources, provided an update on animal disease issues Dec. 1 in the opening session of the 2009 Range Beef Cow Symposium in Casper, Wyo. Galey focused primarily on chronic wasting disease (CWD) and brucellosis, the threat each poses to wildlife or domestic livestock, and respective management efforts.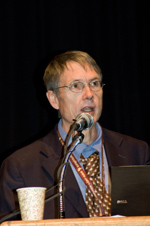 Despite environmental activist groups' claims to the contrary, University of Wyoming Dean Frank Galey said there is solid evidence that brucellosis is being transmitted from elk to cattle.With regard to CWD, Galey said surveillance of Wyoming cervidae (deer and elk) continues, and some new cases have been reported in the state. As with bovine spongiform encephalopathy (BSE) in cattle, the causative agent for CWD is an infectious protein particle (prion) that attacks the central nervous system of cervidae.
Calling the disease "tough to diagnose," Galey said researchers have concentrated on developing new, more-sensitive testing procedures. Research studies also suggest that CWD is not transmissible to cattle.
Unfortunately, brucellosis is a bacterial disease that is transmissible between wildlife species and cattle, and may also be transmitted to humans. Historically, consumption of raw milk was the most common method of contracting undulant fever, as it is called in humans. Stopping the spread of the bacteria to humans is largely the reason milk pasteurization became a standard practice.
Galey, who also serves on the Wyoming Brucellosis Coordination Team, said the incidence of brucellosis among wildlife (chiefly elk and bison) is a significant economic concern because it can spread to cattle herds, causing late-term abortions. Despite certain environmental activist groups' claims to the contrary, Galey said there is solid evidence that brucellosis is being transmitted from elk to cattle. He called immunization efforts only marginally effective.
"There are two vaccines, but they have been only 50% to 60% effective in cattle, and they don't work that well for wildlife," Galey stated. "Currently, management is the key to controlling the disease."
Galey said the Brucellosis Coordination Team is trying to attract federal and state funding for research and development of a more effective vaccine and more and better diagnostic tools, since the disease can be difficult to detect. The group is also looking at the consequences of elk feeding on public lands. It is suspected that the increased concentration of elk on feed grounds leads to increased transmission of brucellosis. On the other hand, feeding elk probably helps keep elk off cattle feed grounds and away from ranchers' stored hay supplies, and may help reduce transmission between species.
Galey also noted the need to remind consumers of the potential threat to human health. Some proponents of an "all natural" diet have advocated consumption of nonpasteurized milk, but that does increase the risk of contracting undulant fever.

Editor's Note: API's coverage of the event is made available for distribution to all media via an agreement with the Range Beef Cow Symposium Committee and API. Headquartered in Saint Joseph, Mo., API publishes the Angus Journal, the Angus Beef Bulletin, the Angus Beef Bulletin EXTRA, and the Angus e-List, as well as providing online coverage of events and topics pertinent to cattlemen through the API Virtual Library. For questions about this site, or to notifiy us of broken links, click here.