No More Low-Cost Gains on Cheap Corn

Utah State ag economist provided analysis of alternative cattle production systems.
by Troy Smith for Angus Productions Inc.
CASPER, Wyo. (Dec. 3, 2009) — There was a time when it was cheaper to put calves in a feedlot than to grow them on grass. Things certainly have changed, said Dillon Feuz, Utah State University agricultural economist. Speaking Dec. 3 at the 2009 Range Beef Cow Symposium in Casper, Wyo., Feuz said the days of low cost of gain based on cheap corn are probably over.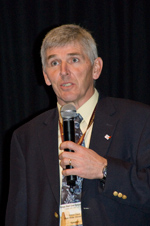 "If you want to make money with a stocker program, you have to be able to add gain cheaper than a feedlot can," said Dillon Feuz, Utah State University ag economist.According to Feuz, the change comes as a result of energy policy, including government's renewable fuels mandates and incentives to produce ethanol from corn. The unintended consequences are volatile grain markets linked to the price of oil, increased market risk and shifts in crop acres. One-third of U.S. corn now goes toward energy production instead of feeding livestock, and Feuz expects a continued battle for corn acres. It's likely corn will remain high-priced relative to the "good ol' days," and feedlot cost of gain will be higher, too.
"It's driving [the cattle feeding industry] away from the calf-fed trend toward increased stocker programs and placement of heavier cattle in feedlots," Feuz added.
The price of feeder cattle going into the feedlot — what buyers are willing to pay — is based on cattle feeders' expectations for fed-cattle prices and cost of gain. The exception is light calves, for which price is based on cost of gain for various stocker programs.
"If you want to make money with a stocker program, you have to be able to add gain cheaper than a feedlot can," Feuz stated, noting a variety of programs utilizing cornstalks or other crop residues plus distillers' grains, winter range and cake (protein cubes) or feeding hay or other cheap forages to calves in a dry lot.
"Generally, grass is the most economical way. It can be done for about 40¢ per pound of gain. That works well for fall calves weaned in the spring, but carrying [spring-born] calves from weaning to cheap grass in the spring can be challenging," Feuz noted. "You can feed hay in a dry lot, but the hay has to be pretty cheap. Cost of gain usually runs near 80¢ per pound, and that's not very cost-effective."
Feuz said grazing calves on cornstalks and supplementing with distillers' grains can be done for about 36¢. Cost of gain on wheat pasture is running near 33¢. He advised producers to consider other potential alternatives, including grazing winter range, meadows or other crop residues. The most economical programs will involve little or no use of harvested forages.
It's nearly always hard to make money with a stocker program when the feeder-cattle market is trending lower, Feuz stated. However, if the market is trending higher, the return could very well be higher than expected.

Editor's Note: API's coverage of the event is made available for distribution to all media via an agreement with the Range Beef Cow Symposium Committee and API. Headquartered in Saint Joseph, Mo., API publishes the Angus Journal, the Angus Beef Bulletin, the Angus Beef Bulletin EXTRA, and the Angus e-List, as well as providing online coverage of events and topics pertinent to cattlemen through the API Virtual Library. For questions about this site, or to notifiy us of broken links, click here.