Limitations, Challenges with RFI

Geneticist Dorian Garrick takes issue with use of residual feed intake as a measure of feed efficiency.
by Troy Smith for Angus Productions Inc.
CASPER, Wyo. (Dec. 2, 2009) — According to Iowa State University geneticist Dorian Garrick, hovering over data is what scientists do. Animal scientists often hover over animal performance data, trying to look at it in different ways.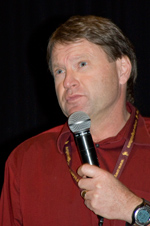 ISU geneticist Dorian Garrick likened RFI as a measure of feed efficiency to comparing the actual number of miles a car travels on a gallon of gas with the expected average for that given model.In comments shared during the 2009 Range Beef Cow Symposium in Casper, Wyo., Dec. 1-3, Garrick said animal scientists interested in genetic selection have long looked for outstanding animals that exhibit the highest levels of production. However, higher production often requires higher inputs. With beef animals, high levels of production are often accompanied by higher feed intake. That's why, said Garrick, the beef cattle industry is so interested in feed efficiency — the relationship between what an animal produces and what it eats. Most commonly, feed efficiency has been expressed as a ratio of pounds of feed required to produce a pound of gain.
"Efficiency expressed as conversion is not a good evaluation (of feed efficiency), because it doesn't account for feed costs or returns from production," Garrick said.
And neither is residual feed intake (RFI) a good measure of feed efficiency, in Garrick's opinion. The subject of considerable study in recent years, RFI is the difference between the actual amount of feed an animal consumes and the amount it was expected to consume. In explaining RFI, Garrick likened it to comparing the actual number of miles a car travels on a gallon of gas with the expected average for that given model.
In the case of beef production, if an animal requires less feed than expected to reach the desired end point, it has a negative RFI value. And that's a good thing. However, Garrick said, RFI doesn't account for economics, making it a poor measure of profitability.
"It doesn't measure output. We need productivity and favorable RFI to be profitable; not just the best RFI," Garrick stated. "We have to consider beef returns relative to feed cost."
Garrick said another problem with RFI is feed intake of individual animals must be measured, and that's expensive. But the most fundamental problem, he added, is that it doesn't account for the cost of feed and therefore offers no economic basis for selection.
"People who get excited about RFI," Garrick concluded, "haven't spent enough time hovering over the data."

Editor's Note: API's coverage of the event is made available for distribution to all media via an agreement with the Range Beef Cow Symposium Committee and API. Headquartered in Saint Joseph, Mo., API publishes the Angus Journal, the Angus Beef Bulletin, the Angus Beef Bulletin EXTRA, and the Angus e-List, as well as providing online coverage of events and topics pertinent to cattlemen through the API Virtual Library. For questions about this site, or to notifiy us of broken links, click here.