Profitable Cow, Heifer Pregnancy Rates

Balance between inputs and outputs must be considered.
by Kindra Gordon for Angus Productions Inc.
CASPER, Wyo. (Dec. 1, 2009) — Fertility and pregnancy rates are the paycheck that builds the foundation for profitability for cow-calf producers, Colorado State University (CSU) professor and Extension beef specialist Jack Whittier reminded attendees at the 21st Range Beef Cow Symposium in Casper, Wyo.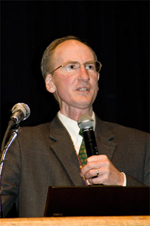 Because of required input costs, there is a difference between maximum and optimum pregnancy rates, said CSU's Jack Whittier. "If costs go up, you expect pregnancy rates to go up. But can you afford that?"There is a teeter-totter effect in achieving a profitable pregnancy rate, which means finding a balance between costs and pregnancy rates, he said, noting a difference between maximum and optimum. "If costs go up, you expect pregnancy rates to go up. But can you afford that?"
To that end, Whittier told producers, "The balance between inputs and outputs can be achieved with management."
Whittier made some comparisons to 40 years ago — when the first Range Beef Cow Symposium was conducted — and today. He noted that pregnancy rates are still influenced by many of the same things — nutrition, genetics, management.
But there have also been many changes in the industry, he noted. Namely, the U.S. cow herd has fewer cows, but is producing more beef than ever before. Also, the industry today is operating with new breeds, composites and biological types of cattle; the industry is facing new cost and income structures with higher cow costs than ever before; and new tools exist, such as economically relevant indicator traits.
Nutrition is still one of the major keys to reproduction, Whittier emphasized. "Cows and heifers still need energy intake."
Whittier encouraged the use of structured crossbreeding and composite animals, saying, "Not incorporating breed complementarity and heterosis is not an option."
All of these factors and tools must be utilized by producers to find ways to decrease costs while still maintaining pregnancy rates, Whittier suggested.

Editor's Note: API's coverage of the event is made available for distribution to all media via an agreement with the Range Beef Cow Symposium Committee and API. Headquartered in Saint Joseph, Mo., API publishes the Angus Journal, the Angus Beef Bulletin, the Angus Beef Bulletin EXTRA, and the Angus e-List, as well as providing online coverage of events and topics pertinent to cattlemen through the API Virtual Library. For questions about this site, or to notifiy us of broken links, click here.