International Trade Considerations

LMIC's Jim Robb emphasizes value of beef exports.
by Kindra Gordon for Angus Productions Inc.
CASPER, Wyo. (Dec. 1, 2009) — Livestock Marketing Information Center (LMIC) Director Jim Robb offered a "big picture" view of the status of the U.S. beef export market during the opening session of the 21st Range Beef Cow Symposium hosted in Casper, Wyo. Approximately 700 beef producers and industry professionals were on hand for the event which is co-hosted by the Animal and Range Science faculty from the University of Wyoming, University of Nebraska, Colorado State University and South Dakota State University.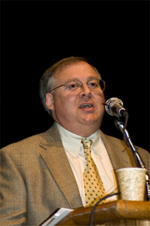 LMIC Director Jim Robb offered a "big picture" view of the status of the U.S. beef export market.To offer some perspective, Robb began by pointing out that by 2050 the world's population is expected to increase by 33%, with India and China being the two most populous countries, respectively. Particularly with the anticipated growth in China, Robb stated, "As people's incomes go higher, demand for animal protein also increases. So beef consumption has the potential to double by 2050."
With this growth, Robb suggested the U.S. will be in a position for beef exports to grow. "The U.S. does not have the largest cattle herd in the world, but produces more beef than any other country," he said.
In 2009, U.S. beef exports added $1 billion to the American economy. With that said, Robb emphasized that "International trade is important to the beef industry." He shared that beef byproducts such as tallow, greases, variety meats, hides and skins are almost all exported and have as much dollar value as the traditional red meat cuts that are exported. "We are very dependent on export markets for variety meats and inedibles like hides and tallow," he said.
Robb acknowledged there are several hurdles that the beef industry must overcome to tap that international trade potential. Specifically, he said, "We've had three major market shocks this decade that were not expected." He named the Sept. 11 terrorist attacks, the BSE incident that halted trade, and the international credit crisis last fall that threw the global economy into recession.
Robb pointed out how all three of these events created substantial drops in beef prices and export markets. Specifically, he said, "We took $6 per hundredweight out of the cattle market last fall because we had five weeks when exports weren't moving. The international credit crisis hit the beef industry immediately."
"It will take years to climb out," Robb said of these three incidents. But, he added, "The good news is we are starting to make some progress again with the export market."
He went on to say, "Economies are improving worldwide. … In fact, the U.S. recession is over, but we're not going to grow very fast in the U.S."
Future Forecast
Looking ahead, Robb says U.S. beef exports will have a slight decline in 2009 from the previous year's levels due to the recession. "For the next couple years I don't see a lot of growth on a tonnage basis," he said. "We may see value increases, but the cow herd is shrinking in the U.S." That means the volume isn't there to increase exports, he explained.
Also contributing to the struggling export market right now are issues such as volatile exchange rates and phytosanitary bans over concerns like H1N1.
"With H1N1 fears we haven't exported as much pork, so we need to consume it domestically, and that has hurt the beef market, too," Robb said.
He also cited the premiums for cattle under 21 months of age for export to Japan as an issue that affects exports, as does Europe's hormone ban. Robb said these issues will likely continue in the future, as will global consumer demands for traceability, country-of-origin labeling and even convenient beef products.
The U.S. beef industry will need to take these factors into consideration, Robb said, as it works to continue building beef exports that ultimately bring value back to the American beef industry.
"Building foreign demand takes a lot of effort," Robb concluded. "Just because you do a good job of producing beef, doesn't mean people will buy it. Supply doesn't create demand. You've got to go out and work to create it, and it's a long, slow process."


Editor's Note: API's coverage of the event is made available for distribution to all media via an agreement with the Range Beef Cow Symposium Committee and API. Headquartered in Saint Joseph, Mo., API publishes the Angus Journal, the Angus Beef Bulletin, the Angus Beef Bulletin EXTRA, and the Angus e-List, as well as providing online coverage of events and topics pertinent to cattlemen through the API Virtual Library. For questions about this site, or to notifiy us of broken links, click here.