Tips for Bull Management, Nutrition

Beef specialist offers management reminders for a successful breeding season.
by Kindra Gordon for Angus Productions Inc.
CASPER, Wyo. (Dec. 3, 2009) — South Dakota State University Extension beef specialist Julie Walker complimented cattle producers for doing an excellent job of selecting bull genetics for their herds, but she reminded them not to forget about nutrition and management of those bulls once they get them home. Walker addressed producers during the third and final day of the 2009 Range Beef Cow Symposium in Casper, Wyo., Dec. 1-3.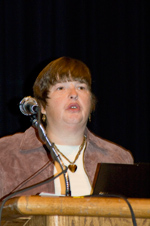 A rule of thumb when using young bulls is to place the same number of cows or heifers with the bull as his age in months, SDSU's Julie Walker said. So, a 15-month-old bull should be turned out with 15 cows or heifers.She offered several management reminders for beef producers to consider to ensure a successful breeding season, including:
Nutrition. Walker said the key is to offer bulls a balanced ration and to not under- or overfeed. She said thin and fat bulls both have reduced reproductive performance. She suggested a body condition score (BCS) of 6 on a 9-point scale is ideal going into the breeding season.
Prebreeding Management. Walker also suggested grouping bulls that will be managed in a pasture together prior to turnout. She said this allows time for them to establish a pecking order and may eliminate fighting at turnout. Also allow bulls ample area for exercise prior to turnout.
Minerals and vitamins. Walker stressed that minerals and vitamins are essential for successful animal growth and breeding performance. She advised offering minerals and vitamins to bulls before, during and after the breeding season.
Watch the weather. Walker reminded that through the winter leading up to breeding season, herd bulls may need some extra protection from the cold to prevent frostbite on the scrotum.
Health. Work with your veterinarian to develop a health protocol for herd bulls, Walker said. Vaccinations, parasite control and a biosecurity plan should be addressed. "Diseases and poor health can impact profitability through reducing the number of calves born," Walker said.
Breeding soundness exam (BSE). A BSE includes a physical examination, measurement of scrotal circumference, and evaluation of semen quality. "Bulls should have a BSE each year because a lot of things can impact fertility," Walker said. She also stressed the importance of paying attention to scrotal circumference as an indicator of bull maturity.
Observation. A BSE does not measure libido or sex drive. Thus, Walker stressed the importance of observing bulls immediately after turnout to determine if they are effectively breeding cows. "Don't wait two weeks to observe bulls; do it in the first day or two, so if there are any problems, the bull can be replaced," she said.
Bull-to-cow ratio. Walker said there are many factors that will determine serving capacity of a bull, including land mass, topography, age of the bull, number of bulls in the pasture and whether a synchronization protocol was used. For young bulls, she said, a rule of thumb is to place the same number of cows or heifers with a young bull as his age in months. So, a 15-month-old bull should be with 15 cows or heifers. Older bulls can serve a cow ratio of up to 1-to-60 with no decrease in conception rates. But if the pasture is large or if synchronization was used, a higher bull-to-cow ratio may be needed.

Editor's Note: API's coverage of the event is made available for distribution to all media via an agreement with the Range Beef Cow Symposium Committee and API. Headquartered in Saint Joseph, Mo., API publishes the Angus Journal, the Angus Beef Bulletin, the Angus Beef Bulletin EXTRA, and the Angus e-List, as well as providing online coverage of events and topics pertinent to cattlemen through the API Virtual Library. For questions about this site, or to notifiy us of broken links, click here.