Custom Heifer Development Strategies

Replacement heifers offer a mixed blessing, representing the future of the herd, but also a short-term drain on finances.
by Troy Smith for Angus Productions Inc.
CASPER, Wyo. (Dec. 1, 2009) — To the cow-calf producer, the replacement heifer represents a mixed blessing. She is a vehicle for genetic improvement of the cow herd and its future profitability. But, because she is nonproductive for the first 2-1/2 years of her life, she's also a drain on the producer's cash flow. She's definitely an inconvenience, but selection and development of the replacement heifer is necessary to the continued success of a cow herd.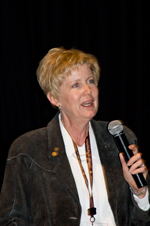 "For the best pregnancy rates, we avoid getting heifers too fat too fast," heifer development specialist Patsy Houghton said, citing a goal of 1.0 pound to 1.5 pounds of gain per day."Heifer development is a way to make a difference in a rancher's bottom line — in a hurry," said Heartland Cattle Co. owner/manager Patsy Houghton while speaking to beef producers gathered for the 2009 Range Beef Cow Symposium Dec. 1-3 in Casper, Wyo. "But professional heifer development is about more than feeding heifers."
Since 1990, Houghton's professional heifer development and research center near McCook, Neb., has turned out more than 71,000 heifers bred by artificial insemination (AI). But Houghton said she and her crew are interested in more than getting heifers pregnant. They want to develop replacements with longevity.
Houghton said a heifer development professional should provide a "problem-solving" service, helping fine-tune heifer selection through application of tools, including reproductive tract scoring to identify poor replacement prospects prior to breeding. Proper nutritional development is best achieved through a high-roughage ration, she added.
"For the best pregnancy rates, we avoid getting heifers too fat too fast," Houghton said, citing a goal of 1.0 pound to 1.5 pounds of gain per day. "We like to increase the plane of nutrition late in the development period, just prior to breeding, for best results."
Estrus synchronization prior to AI results in an earlier average conception date within a defined breeding season, Houghton explained. The heifers' calves are then of more uniform age, size and weight. Selection of proven AI sires can address goals for calving ease and calf performance.
In addition to enhancing calf value and retention of young cows, Houghton said professional heifer development can help simplify management and optimize use of ranch resources.
"It can remove, from the ranch, a group of animals that must be managed separately, and free up resources for more efficient use by mature cows," she explained. "A rancher has to decide if (he or she) can afford to develop heifers on land and other resources that won't return a saleable product for 2-1/2 years."
Editor's Note: API's coverage of the event is made available for distribution to all media via an agreement with the Range Beef Cow Symposium Committee and API. Headquartered in Saint Joseph, Mo., API publishes the Angus Journal, the Angus Beef Bulletin, the Angus Beef Bulletin EXTRA, and the Angus e-List, as well as providing online coverage of events and topics pertinent to cattlemen through the API Virtual Library. For questions about this site, or to notifiy us of broken links, click here.