Monitor the Range

Range management specialist shares five steps to implement a range monitoring program.
by Troy Smith for Angus Productions Inc.
CASPER, Wyo. (Dec. 2, 2009) — The fixed costs of operating grazing land are, well, fixed. According to South Dakota State University Range Management Specialist Roger Gates, that's why it's important for range managers to maintain or increase production per unit, look for incentives awarded for good range stewardship and ensure land tenure security for rented private grazing land or public land.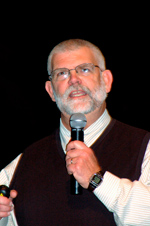 "You don't have to be a botanist to monitor successfully," said SDSU's Roger Gates.Range monitoring is useful to measure and document the results of good management practices, Gates told cattlemen gathered in Casper, Wyo., for the 2009 Range Beef Cow Symposium Dec. 1-3.
Gates recommended five steps to implementing range monitoring, starting with inventory assessment, which is simply taking stock of available range resources. Next, a manager must decide on his or her vision of what range management objectives are. Thirdly, the manager develops a strategy for a long-term approach to management.
While implementing the plan, the manager should keep records. Document the steps taken in implementing the plan and any modifications made. Then monitor the results, asking whether the plan is working and you are accomplishing the stated objectives.
"You don't have to be a botanist to monitor successfully," Gates stated. "In most cases, the range biomass is 75% to 85% grasses. Most sites are dominated by a half-dozen grass species, and you probably know what they are, or you can find out."
Monitoring tools that will be helpful include a GPS for tracking specific patches on selected sites the manager wants to return to repeatedly for observations. Gates called photographs particularly helpful in documenting response to management practices and their effect on cover, plant density and species frequency. He also advised managers to develop a scoring system for grassland.
"Most producers are familiar with the body condition score system for cattle," Gates said. "A scoring system similar to that can be used to evaluate the range and help you determine if you're 'getting there'."

Editor's Note: API's coverage of the event is made available for distribution to all media via an agreement with the Range Beef Cow Symposium Committee and API. Headquartered in Saint Joseph, Mo., API publishes the Angus Journal, the Angus Beef Bulletin, the Angus Beef Bulletin EXTRA, and the Angus e-List, as well as providing online coverage of events and topics pertinent to cattlemen through the API Virtual Library. For questions about this site, or to notifiy us of broken links, click here.