Becoming an Ag Advocate

South Dakota couple encourages beef producers to teach others about the value of agriculture.
by Kindra Gordon for Angus Productions Inc.
CASPER, Wyo. (Dec. 1, 2009) — Fifth-generation ranchers Troy and Stacy Hadrick of Vale, S.D., emphasized the importance of beef producers' talking to the general public about agriculture to help better educate them on the journey food takes from farm to fork. The Hadricks made their presentation about becoming an "advocate for agriculture" at the 21st Range Beef Cow Symposium in Casper, Wyo.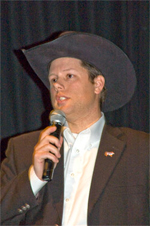 Troy Hadrick encouraged cattlemen to prepare a 30-second elevator speech, introducing themselves by telling who they are, where they are from and what their connection to agriculture is."Think about what's been influencing consumers when they think of agriculture; where do they get their information?" Troy noted. He pointed out that often media, movie stars and sports figures are the ones who influence what consumers think. The Hadricks suggest that when it comes to agriculture, beef producers are the experts at what they do and, thus, should be the ones from whom consumers hear.
"We — beef producers — need to help people understand where we live and how the beef we raise gets to their table," Stacy said.
The Hadricks suggested beef producers use the three T's to reach consumers: Talk, Teach and Touch.
"Talking simply means you start up a conversation using your 30-second elevator speech," Troy explained. The "elevator speech" is something you might use when you introduce yourself: Tell who you are, where you are from and what your connection to agriculture is.
"Telling people who you are gives a fantastic opportunity to help start that conversation about ag and answer their questions to help educate them," Troy said.
Teaching means finding opportunities to share your ranch with others — either by hosting tours for civic groups or inviting school students to visit.
"And, if they can't come to you, take your ranch to them," Stacy added, explaining that this might mean taking photos into an elementary classroom to share what you do as a beef producer, or simply going into a classroom and reading a book about agriculture and answering any questions.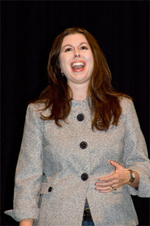 "We - beef producers - need to help people understand where we live and how the beef we raise gets to their table," Stacy Hadrick said."It's about taking the time to make a connection with people," Stacy said. "Even in our rural communities we have people who need to know more about agriculture."
The Hadricks suggested that teaching can be done by offering to do media interviews, writing letters to editors and contacting legislators.
The bottom line, they said, is to touch the lives of others by conveying the message that as a beef producer you care about the cattle you raise and producing a safe product for people to eat.
"If you are not letting your voice be heard," Troy concluded, "someone else is. We have all got to be more involved in teaching the public about agriculture."
For more information on the Hadricks' efforts at ag advocacy, visit www.advocatesforagriculture.com. 

Editor's Note: API's coverage of the event is made available for distribution to all media via an agreement with the Range Beef Cow Symposium Committee and API. Headquartered in Saint Joseph, Mo., API publishes the Angus Journal, the Angus Beef Bulletin, the Angus Beef Bulletin EXTRA, and the Angus e-List, as well as providing online coverage of events and topics pertinent to cattlemen through the API Virtual Library. For questions about this site, or to notifiy us of broken links, click here.