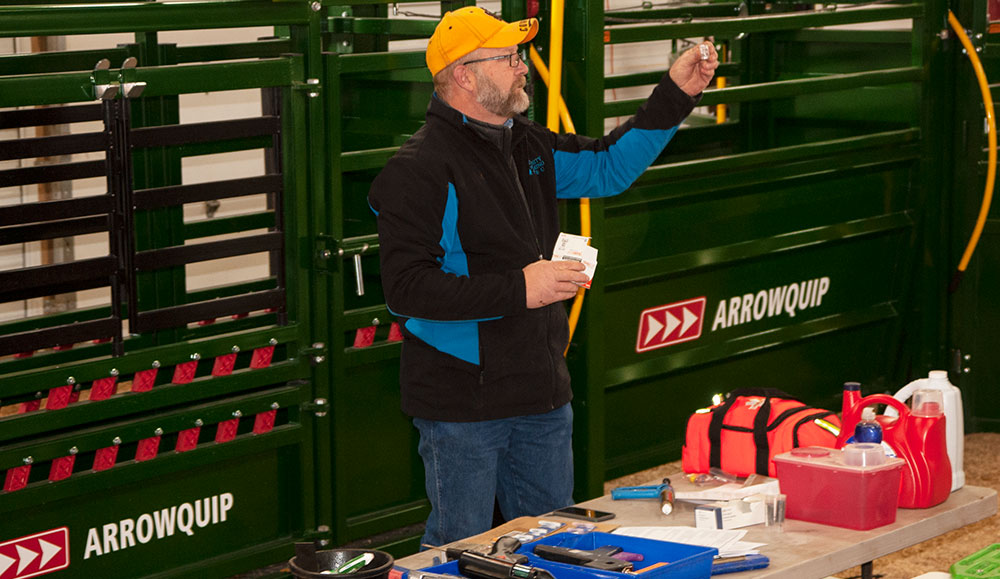 Prepare for a Good Day
Chuteside Beef Quality Assurance begins before cattle reach the headgate.
MITCHELL, NEB. (Nov. 18, 2019) — Nearly 125 cattlemen took a turn chuteside for tips on processing cattle the correct way Nov. 18 while gathered in Mitchell, Neb., for the 2019 Range Beef Cow Symposium. Steve Paisley, associate professor and extension beef cattle specialist for the University of Wyoming, offered tips at a Beef Quality Assurance (BQA) Certification Event preceding the traditional two-day program.
BQA begins before cattle enter the chute, Paisley emphasized, encouraging producers to first take time to inspect their facilities, looking for anything that might cause a problem or injury to the cattle or people working them. Remember to make sure the chute is adjusted to the size of the cattle you'll be working, and look for and eliminate distractions, such as shadows.
Make sure your processing team understands your goals for the day, said Paisley. Take time to make sure everyone understands their job and how the equipment they'll be using operates.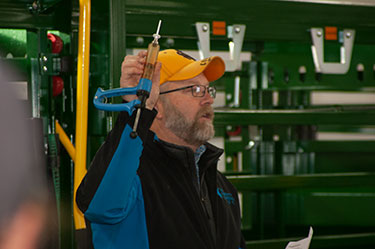 Syringes should be sterilized using three rinses of water at greater than 180° F, Steve Paisley said, reminding those chuteside that soaps can be harmful to vaccine products if residual remains in the barrel. [Photos by Troy Smith]
While a variety of syringes — single-dose and multi-dose — are available to use according to your personal preference, it's important to inspect them to make sure they are in proper working order and adjusted to provide the correct dose, he advised.
Marking the syringes can help ensure the correct syringe is used with the correct product, he said, noting that many times a seven-way clostridial vaccine is given at the same time as a modified-live virus (MLV) vaccine. If the products are mixed, such as by pulling the MLV product into the syringe with the clostridial, the adjuvant used with the clostridial can lessen or nullify the effectiveness of the MLV product. Syringes are available with different-colored nobs on the end of the plunger. Electrical tape of different colors can also be used to mark the syringes and their resting places.
Syringes should be sterilized using three rinses of water at greater than 180° F, Paisley said, reminding those chuteside that soaps can be harmful to vaccine products if residual remains in the barrel. Don't forget to sterilize transfer needles used to transfer the diluent from a plastic bottle to a glass bottle with the freeze-dried MLV product. Disposable single-use transfer needles are available, he added.
Use the correct needle for the job, said Paisley, recommending 16- or 18-gauge needles, using 5/8-3/4-inch lengths for subcutaneous (sub-Q) injections and 1-inch lengths for intramuscular (IM) injections. Needles are color-coded according to their size, he pointed out. 18-gauge needles have a green sheath while 16-gauge needles have a grey sheath.
Change needles often, at least every 10 head, he advised. "Never put a dirty needle back into a syringe."
As many syringes hold 10 doses, so a routine of changing the needle with each fill of the syringe can be a useful practice, he noted. While official sharps containers are available for needle disposal, a laundry detergent container works well and fulfills BQA standards for safe disposal.
Paisley displayed several types of coolers — commercially available and homemade — to keep products out of direct sunlight and stored at safe temperatures during processing. Most of the coolers doubled as a rest for syringes when not in use. While ice packs may be needed during hot days, a warmed bag of rice can be placed in a cooler on cold days.
Wyoming's state coordinator for BQA, Paisley recommended a chuteside "ready kit" containing:
extra needles, transfer needles and syringes;
screwdriver and pliers;
needle disposal container;
pen and paper for any notes, such as to retain a lot number on vaccines used;
paper towels or rags;
disinfectant/antimicrobial spray; and
general antibiotics to treat any sick animals.
Admitting he's on a first-name basis with staff at a local hospital, Paisley said preparing and having on hand a first-aid kit is a good practice. He carries one with antibiotic ointment, disinfectant, Band-Aids®, tweezers, scissors, antihistamines, bottled water and ibuprofen.
For additional BQA resources, including the BQA Manual, visit www.bqa.org.
The Range Beef Cow Symposium XXVI was hosted Nov. 18-20 at the Mitchell Events Center at the Scotts Bluff County Fairgrounds, Mitchell, Neb. Sponsored by the Cooperative Extension Service and animal science departments of the University of Wyoming, South Dakota State University, Colorado State University and the University of Nebraska, the biennial symposium offers an educational program geared toward ranching in the West.
---
Angus Media provides online coverage of the event at www.rangebeefcow.com, courtesy of sponsorship by Leachman Cattle of Colorado. Visit the site newsroom for summaries of the sessions, proceedings and PowerPoint presentations provided by the speakers, and audio if available. For more information about the website, contact the editorial team at 816-383-5200.
Editor's Note: This summary was written under contract or by staff of the Angus Media, which retains the copyright. To request to reprint this article, contact Shauna Rose Hermel, editor, at 816-383-5270. PowerPoints are posted with permission of the presenter and may not be reproduced in whole or in part without the express permission of the presenter. Angus Media claims copyright to this website as presented. We welcome educational venues and cattlemen to link to this site as a service to their audience.
Angus Media's coverage of the event is made possible through collaboration with the event committee and via sponsorship of Leachman Cattle of Colorado. For questions about this site, or to notify us of broken links, click here. Look for additional coverage in the Angus Journal, the Angus Beef Bulletin, the Angus Journal Daily, and the Angus Beef Bulletin EXTRA.