No Fleecing the Lease
Two types of leasing arrangements explained and decision-making aid shared.
MITCHELL, Neb. (Nov. 19, 2019) — There is more than one way to skin a cat. There is also more than one way to manage cows. Aaron Berger, beef systems extension educator with the University of Nebraska, offered some insight on leasing cattle to attendees of the 2019 Range Beef Cow Symposium hosted Nov. 18-20 in Mitchell, Neb.
Leasing cattle is a great option for established cow herd owners who don't want to do the day-to-day work. It can be a way to transition the operation to another generation. It can also be a way for new cattlemen to get into the business while needing a bit less capital.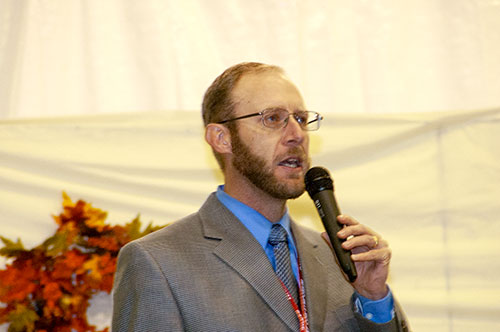 Aaron Berger, beef systems extension educator, says cash lease and cow-calf sharing are two major leasing options and offers the Cow-Q-Lator decision-making aid as a tool to determine what's fair in the agreements. [Photo by Troy Smith]
Berger explains there are two main ways to lease cattle: cash leasing and cow-calf sharing. To determine what's fair, it's helpful to understand the advantages and disadvantages for both parties in both options.
"I think both can have application depending on the scenario we're in and what are the goals of those who own or operate the cows," Berger said.
For a cash lease, the owner gets paid cash per bred female, so there is known income and less risk. However, there is less income potential, and they may not have access to replacement females. The operator pays cash per bred female, so it is simple and they retain all the calves. They do have to come up with the cash, and they accept all production and price risks.
For cow-calf sharing, the owner gets a share of the calf crop. This gives them a potential role in the management, and they can retain ownership or sell calves at weaning. This also means they share in the production and price risks, and there is greater involvement in the working relationship with the operator. The operator also gets a share of the calf crop. Cash isn't needed to pay for the lease of the cows. They share the production costs and price risks with the owner and have a sounding board because the owner is involved in production and marketing. However, this means they give up a portion of the calf crop and have less control.
Berger shared a tool to help determine what's fair for each party. The Cow-Q-Lator Cow-Calf Share Lease Decision Aid is an Excel spreadsheet that helps determine a fair agreement when all of the input values contributed by the owner and operators to the production on weaned calves are entered.
"This tool allows you to go in as the cow owner or the operator and have both parties put in what are they contributing to the production of weaned calves. We're putting in all values here — not just the things you write a check for, but also things like depreciation, opportunity, interest on capital investment, the value of your labor," Berger said. "All of those things are involved because we need to take that into account to really accurately represent what each party is contributing to the production of weaned calves [are entered]."
This requires communication between the operator and the owner, and there are plenty of points to consider. The profitability pie is much smaller this year than previous years.
"How do we work through this? How do we evaluate where we're at? What do we need to do to try to make this work? For those of you who may be cow owners, and you're working with the beginning resources or a limited-resource producer, try to understand where they're at from an operator perspective," Berger said. "Try to understand where that cow owner is at. Probably neither of you, in a year like this, is going to get as much as you'd hoped out of this agreement, but long-term, can you see it being something that's working?"
Some things to discuss with the partner might include lender involvement, cattle care, sickness and death loss, breeding decisions, breeds used, culling decisions, replacements, division of and branding of calves with shares, hauling and marketing, expected results and an exit plan. A third-party mediator may be helpful. He suggested keeping the heifer development agreement separate from the cow agreement.
He strongly suggested getting the agreement in writing.
You can find the Cow-Q-Lator decision aids at https://extension.unl.edu/statewide/westcentral/ag-economics/. You can also watch a video walking through its use at https://www.youtube.com/watch?v=n6XlqC0qgG4.
Listen to Berger's presentation and view his PowerPoint and proceedings in the Newsroom at www.rangebeefcow.com.
The Range Beef Cow Symposium XXVI was hosted Nov. 18-20 at the Mitchell Events Center at the Scotts Bluff County Fairgrounds, Mitchell, Neb. Sponsored by the Cooperative Extension Service and animal science departments of the University of Wyoming, South Dakota State University, Colorado State University and the University of Nebraska, the biennial symposium offers an educational program geared toward ranching in the West.
Angus Media provides online coverage of the event at www.rangebeefcow.com, courtesy of sponsorship by Leachman Cattle of Colorado. Visit the site newsroom for summaries of the sessions, proceedings and PowerPoint presentations provided by the speakers, and audio if available. For more information about the website, contact the editorial team at 816-383-5200.
---
Editor's Note: This summary was written under contract or by staff of the Angus Media, which retains the copyright. To request to reprint this article, contact Shauna Rose Hermel, editor, at 816-383-5270. PowerPoints are posted with permission of the presenter and may not be reproduced in whole or in part without the express permission of the presenter. Angus Media claims copyright to this website as presented. We welcome educational venues and cattlemen to link to this site as a service to their audience.
Angus Media's coverage of the event is made possible through collaboration with the event committee and via sponsorship of Leachman Cattle of Colorado. For questions about this site, or to notify us of broken links, click here. Look for additional coverage in the Angus Journal, the Angus Beef Bulletin, the Angus Journal Daily, and the Angus Beef Bulletin EXTRA.