Another Profit Avenue
Tips offered to use your commercial herd as recipients for embryo transfer.
MITCHELL, Neb. (Nov. 20, 2019) — Unless we do things out of the ordinary, beef is a commodity. A commodity is by definition a break-even game, admitted Scott Lake, associate professor and beef extension specialist for the University of Wyoming. To beat that statistic, Lake suggested thinking out of the box for profit potential — implants, ionophores, beta agonists, artificial insemination (AI) and even embryo transfer (ET).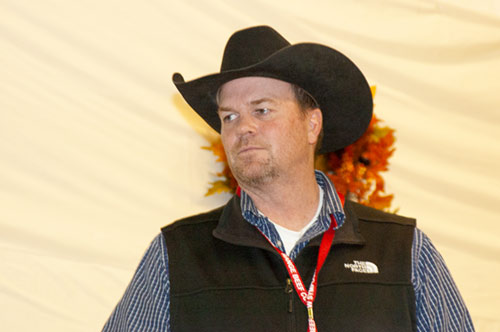 The University of Wyoming's Scott Lake explained the process of embryo transfer and how it might add to a commercial program.[Photo by Troy Smith]
The benefits of ET might be more obvious for seedstock breeders, to quickly propagate superior genetics, but for the commercial cattleman, benefits remain. Lake suggested commercial cattlemen could produce their own high-quality bulls, or even sell them. Depending on your own operation, there are other benefits.
ET implants a fertilized egg that has been flushed from a high-quality donor cow and fertilized with high-quality semen into a recipient cow. For recips, it's set up like timed-AI with a seven-day co-synch protocol. Lake explained that when standing heat is observed, a fresh or frozen embryo should be placed seven days later.
Jaclyn Wilson, fifth generation of Wilson Flying Diamond Ranch and Flying Diamond Genetics, explained that for her operation, recips work as a succession solution with an opportunity to keep quality cows in production. These bring in an additional revenue stream.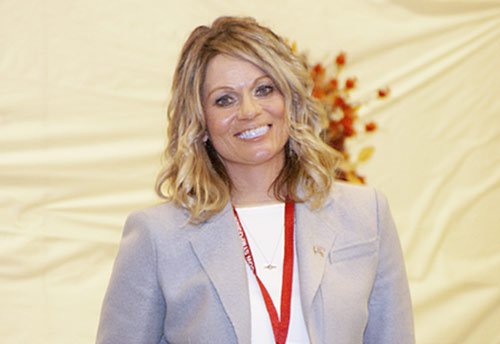 Jaclyn Wilson shared how she is using ET to grow her businesses, Wilson Flying Diamond Ranch and Flying Diamond Genetics.
"I can charge over double the value of a market price on an animal. Yes, there's more input costs and, yes, more labor, but all in all I can still make more raising a recip calf than I can raising a natural-sire calf," Wilson said.
She admitted it was odd to market at first because it's such a niche market, but with some time spent on social media and email communication, she was booked for the first year. She warned that conception rates are lower with in vitro fertilization (IVF) embryos — the nationwide conception rate with IVF embryos is about 35% and still 50% on conventional embryos. She's still made it work and has been profitable enough to lease another ranch and buy more females.
Managing recips takes finesse and attention to detail. So, how does it work?
"There's a number of ways you can set this up in terms of receiving income. Some people do just a flat rate; some do it on a price-per-weight basis. There's multiple different ways to do it. But, how I set it up was as a four-time payment. We get paid at implantation, when we preg [check] and we also do fetal at that time, at the birth of that calf, and then weaning and delivery of that calf. And we back-load it just because the conception rates are so low. It's usually about 2% to 2.12% above current market value, depending on the year, that we're getting for a weaned calf."
They have enough cows now to have three options for calving season: February, March and September. She said her operation covers all expenses, including creep, but there are some exceptions like genetic issues from the client.
This works at Flying Diamond Ranch because they have two operations. She said at the North Place, they calve ETs in February and March, and then put in cleanup bulls. This means they have natural service to the end of March to mid-April for 30 days. They implant in May and June, precondition in August and deliver in September. They calve fall ETs in September, have natural-service sires in from September to October and implant again in December. Yes, she admitted, they calve for seven months of the year.
"Thank God we all like calving, but at the same time, we're doing seven different groups," she said. "So, it also provides us really unique ways of marketing those animals, too."
She concluded with some tips she's learned:
Be selective on your recips;
Check the mouth of any purchased female;
Avoid using heifers as recips;
Select clients that share your beliefs;
Change the mindset from a commercial breeder to more of a seedstock breeder to raise animals for the show ring or purebred sale; and
If something doesn't feel right, don't be afraid to change it.
Listen to this presentation and view the PowerPoint accompanying the presentation in the Newsroom at www.rangebeefcow.com.
---
Editor's Note: This summary was written under contract or by staff of the Angus Media, which retains the copyright. To request to reprint this article, contact Shauna Rose Hermel, editor, at 816-383-5270. PowerPoints are posted with permission of the presenter and may not be reproduced in whole or in part without the express permission of the presenter. Angus Media claims copyright to this website as presented. We welcome educational venues and cattlemen to link to this site as a service to their audience.
Angus Media's coverage of the event is made possible through collaboration with the event committee and via sponsorship of Leachman Cattle of Colorado. For questions about this site, or to notify us of broken links, click here. Look for additional coverage in the Angus Journal, the Angus Beef Bulletin, the Angus Journal Daily, and the Angus Beef Bulletin EXTRA.