Sample Submission
Here's how to take, preserve and ship samples for DNA, BVD or pregnancy testing.
MITCHELL, Neb. (Nov. 19, 2019) — As beef industry technology tools continue to advance, collecting blood and tissue samples for cattle DNA, BVD (bovine viral diarrhea) or pregnancy detection is becoming more common. At the 2019 Range Beef Cow Symposium in Mitchell, Neb., Nov. 19, Kelly Heath offered insights into these tests, along with tips for successfully collecting, preserving and shipping samples for analysis. Heath is the director and attending veterinarian of the Institutional Animal Care Program at the University of Nebraska–Lincoln.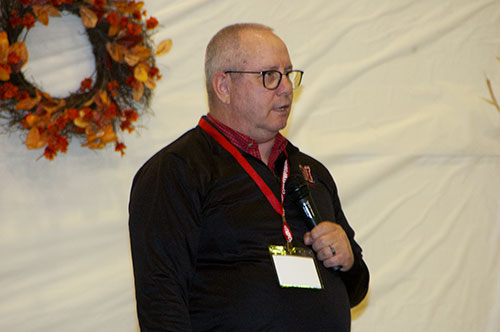 Considering the effort you put into collecting blood or tissue samples and the investment into paying for the tests, you should not skimp on shipping, says Kelly Heath, director and attending veterinarian of the Institutional Animal Care Program at the University of Nebraska–Lincoln.[Photo by Troy Smith]
Regarding use of the BioPryn® early pregnancy-detection test, which requires a blood sample, Heath explained that it offers a noninvasive alternative to palpation or ultrasound. The ELISA (enzyme-linked immunosorbent assay) test is based on testing for the presence of pregnancy-specific protein B, or PSPB, which is only produced by the placenta of an animal with a growing fetus. The BioPryn test is considered 99% accurate for determining open females and 95% accurate for determining pregnant females, he shared.
Testing cost is about $2.50 per sample, which Heath said is equivalent to palpation or ultrasound. Turnaround time on testing is about 24 hours within receipt of the samples by the lab. He pointed out this delay should be considered by producers as this may require handling animals a second time, and it may require delaying vaccinations, parasite control and other products with withdrawal times. The test also does not indicate stage of gestation.
As an additional point, Heath pointed out that collecting blood samples may be a skill that is easier to teach or train employees compared to palpation. Blood samples are drawn from the bottom side of the cow's tail at the point where the tail folds come together.
"I call it a dimple. It's about the size of a nickel in an adult cow. That's your target," he said.
Regarding when to test, Heath explained timing should be when the fetus is implanted and actively growing in placenta. The suggested sampling timing for heifers is at least 25 days postbreeding and for cows 28 days postbreeding — and 73 days postcalving. For embryo transfers, testing is recommended at 25 days post implant of a 7-day-old embryo, and 32 days after heat is detected.
The test can give false readings if blood samples aren't collected according to these guidelines, said Heath.
His tips for collecting blood samples include:
2 to 3 mL of blood is needed for an accurate test.
The gridded boxes that blood/Vacutainer® tubes come in can be useful to hold the tubes chuteside and keep them organized.
A 1-inch, 18-gauge needle works best.
Use of a 3-mL syringe with a needle may be easier to handle for those new to drawing blood compared to a blood or Vacutainer tube with a needle.
Use of a new needle and syringe for every sample is critical to prevent disease transmission within animals and any contamination of blood samples.
Use a sharps disposal container to dispose of used needles; he emphasized a milk jug or a pop bottle are not adequate.
For a video showing the steps to collect blood samples from the tail, visit: https://www.youtube.com/watch?v=IuNbsTMrIuI
Shipping blood samples should be at ambient temperatures and should not exceed three days in transit. The blood samples should not be frozen.
Regarding testing for parentage verification, genetic selection tools, or BVD diagnostics, DNA tissue samples must be collected from the ear of the animal. Heath explained that these assessments can provide an array of information from which to make herd management and selection decisions.
A handheld TSU (tissue sampling unit) is used to collect a sample from the animal's ear and automatically stores it into a TSU container, which includes a preservative. Heath notes that samples can be collected in seconds, when an animal's head is restrained in a chute. Watch a brief tutorial at https://www.youtube.com/watch?v=aTVLR-nMr00.
For those interested in collecting ear notches for BDV testing only, learn more about the steps for that process here.
As tips, Heath emphasized that tissue samples should not be frozen, and if there is a tattoo in the ear, he advised avoiding collection from that spot. He explained that the tattoo ink may interfere with the test, and taking tissue out of the tattoo may make it illegible in the future.
Shipping Tips
Heath emphasized that with the effort put into collecting blood or tissue samples and the investment into paying for the tests, you should not skimp on shipping. He recommended the following:
Step 1: Prepare a rigid outer package that will contain the secondary packaging. Use a cold pack if the specimen must remain at a refrigerated temperature, and especially if the weather temperatures during shipping will be hot. If the weather includes freezing temperatures, Heath suggested waiting to mail the package until the cold spell has passed. A Styrofoam cooler placed snugly inside a cardboard box works well for mailing samples, he added.
Step 2: To prevent damage to specimens in transit, ensure blood tubes have adequate cushioning and are bagged to prevent leakage. Add a layer of filler between cold packs and specimens. Keep paperwork dry by packaging it in separate zip-close bag.
Step 3: Add additional filler to decrease empty space within the secondary packaging. Secure the entire package with tape.
Step 4: Work with the shipper to label the package in accordance to the specimen's classification; typically identifying the package as "biological substance" is required.
Listen to Heath's presentation and view his PowerPoint in the Newsroom at www.rangebeefcow.com.
The Range Beef Cow Symposium XXVI was hosted Nov. 18-20 at the Mitchell Events Center at the Scotts Bluff County Fairgrounds, Mitchell, Neb. Sponsored by the Cooperative Extension Service and animal science departments of the University of Wyoming, South Dakota State University, Colorado State University and the University of Nebraska, the biennial symposium offers an educational program geared toward ranching in the West.
Angus Media provides online coverage of the event at www.rangebeefcow.com, courtesy of sponsorship by Leachman Cattle of Colorado. Visit the site Newsroom for summaries of the sessions, proceedings and PowerPoint presentations provided by the speakers, and audio if available. For more information about the website, contact the editorial team at 816-383-5200.
---
Editor's Note: This summary was written under contract or by staff of the Angus Media, which retains the copyright. To request to reprint this article, contact Shauna Rose Hermel, editor, at 816-383-5270. PowerPoints are posted with permission of the presenter and may not be reproduced in whole or in part without the express permission of the presenter. Angus Media claims copyright to this website as presented. We welcome educational venues and cattlemen to link to this site as a service to their audience.
Angus Media's coverage of the event is made possible through collaboration with the event committee and via sponsorship of Leachman Cattle of Colorado. For questions about this site, or to notify us of broken links, click here. Look for additional coverage in the Angus Journal, the Angus Beef Bulletin, the Angus Journal Daily, and the Angus Beef Bulletin EXTRA.