Dare to be Different
Nebraska cattleman shares 10 strategies he's employed to improve profitability.
MITCHELL, Neb. (Nov. 20, 2019) — Hay Springs, Neb., rancher Vern Terrell and his family have dared to be different in their thinking as they've grown their family ranching operation. Sharing strategies applied to their western Nebraska operation with attendees at the 2019 Range Beef Cow Symposium in Mitchell, Neb., Nov. 20, he said, "Any way we can be competitive, that is what we are after."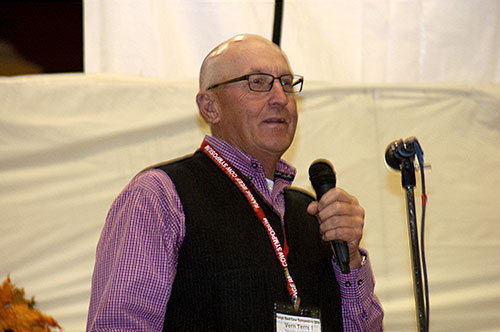 "We buy all of our replacement cows," explained Terrell, adding they buy lower-cost older cows. They avoid heifers and younger cows, which they view as higher risk to successfully produce a calf.[Photo by Troy Smith]
One of their core tenets includes operating primarily on leased land, which reduces property taxes and allows for flexibility. They then invest in their leased acres by cross-fencing or adding water developments, Terrell said. To expand grazing, they have also transitioned an irrigated field into a dedicated pasture planted with a forage mix, and they utilize cover crops on crop ground for fall grazing.
With regard to livestock, the Terrells have also been willing to break several "traditional" rules. "We buy all of our replacement cows," explained Terrell, who says they focus on buying low-cost older cows. They prefer to avoid heifers and younger cows, which they view as higher risk to successfully produce a calf.
Calving season at Terrell Farms begins about May 15 and runs through July 15. Bulls are left in for 100 days. Terrell explained the longer calving season: "We'd rather have a late-calving cow than an open cow." They also early-wean calves at 100 to 130 days of age to reduce grazing pressure in pastures and stress on cows.
Bulls are typically used for one breeding season only and then sold. Terrell said he considers it an economic advantages to not have bulls year-round.
Also unique to their operation, the Terrells have tapped multispecies grazing, managing 800 ewes to complement their cow herd and bring additional ranch revenue. "The sheep select different forage species, so it doesn't require more range," explained Terrell.
Another opportunity to expand and generate revenue has come through custom grazing and a custom grow yard, which the Terrells have added.
"It keeps us fully employed," he said.
Listen to Terrell's presentation and view his PowerPoint in the Newsroom at www.rangebeefcow.com.
The Range Beef Cow Symposium XXVI was hosted Nov. 18-20 at the Mitchell Events Center at the Scotts Bluff County Fairgrounds, Mitchell, Neb. Sponsored by the Cooperative Extension Service and animal science departments of the University of Wyoming, South Dakota State University, Colorado State University and the University of Nebraska, the biennial symposium offers an educational program geared toward ranching in the West.
Angus Media provides online coverage of the event at www.rangebeefcow.com, courtesy of sponsorship by Leachman Cattle of Colorado. Visit the site Newsroom for summaries of the sessions, proceedings and PowerPoint presentations provided by the speakers, and audio if available. For more information about the website, contact the editorial team at 816-383-5200.
---
Editor's Note: This summary was written under contract or by staff of the Angus Media, which retains the copyright. To request to reprint this article, contact Shauna Rose Hermel, editor, at 816-383-5270. PowerPoints are posted with permission of the presenter and may not be reproduced in whole or in part without the express permission of the presenter. Angus Media claims copyright to this website as presented. We welcome educational venues and cattlemen to link to this site as a service to their audience.
Angus Media's coverage of the event is made possible through collaboration with the event committee and via sponsorship of Leachman Cattle of Colorado. For questions about this site, or to notify us of broken links, click here. Look for additional coverage in the Angus Journal, the Angus Beef Bulletin, the Angus Journal Daily, and the Angus Beef Bulletin EXTRA.