How the R.A. Brown Ranch Stays in the Family
Fifth-generation rancher details his family's proactive approach to keep the family in the ranch and the ranch in the family.
MITCHELL, Neb. (Nov. 19, 2019) — "Ranching is like faith. We're sure of what we hope for, and certain of what we cannot see. It really doesn't matter where we came from. Where we're heading is what matters most," Donnell Brown told attendees of the 2019 Range Beef Cow Symposium Nov. 18-20 in Mitchell, Neb.
The fifth-generation rancher from Throckmorton, Texas, explained the grit and strategy his family has employed for generations (see www.rabrownranch.com/history). The key, he said, has been the ability to think outside the box.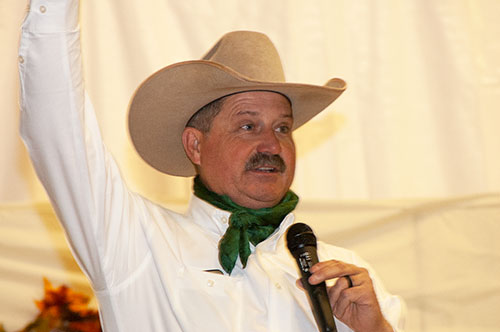 Donnell Brown pointed out laws change and options available to his ancestors are not available now, and vice versa. "It's so important to find an expert on these things," he emphasized. [Photo by Troy Smith]
Currently, he and his three siblings and their families manage the R.A. Brown Ranch, a feat made possible largely because his parents, Rob and Peggy Brown, started the estate planning process early. Brown explained that after high school, Rob and Peggy encouraged them to do whatever they wanted, but stipulated they had to pay for it from their own pockets. If they wanted, they could come back to work on the ranch as an employee, or they could come back with a business plan and cash-flow statement to build the ranch to support another family. They had to grow the pie bigger to support more people. All four siblings did come back to the ranch in various capacities.
Donnell's parents started gifting the ranch undivided to the four children about 25 years ago. This gave the children majority ownership tax-free by the fall of 2012.
Rob had explained, "Your mother and I have lived our dream. While we still have good health, we want to watch you and our grandchildren pursue your dreams."
Rob was going to partition the ranch according to their kids' various interests, but Donnell's mother was adamant that the younger generation should decide on their own. So, the four "kids" met once per month off the farm to decide how to split the ranch.
After months of meetings they decided to determine the value of the ranch and split it into four equal parts based on value, not acres, houses, pens or capital improvements, Donnell said. They did not hire an appraiser to officially valuate the property. Rather, the litmus test was if they numbered each part 1-2-3-4, then drew a number out of a hat for which part they'd inherit, they could each be happy with whatever part they received. While that was what they agreed to, in the end they didn't draw from a hat, but portioned it depending on their specific interests.
Making things work
Once the property was allocated, the question became what to do with the cattle and the horses.
Due to the extreme Texas drought of 2011-2013, they had already sold most of the commercial cows, keeping mostly registered cows with their increased value on a per-head basis. They leased a ranch in Montana for those cows because 70% of the home ranch didn't have water. The owner of that ranch sold it, and the Browns had 45 days to move the 300 cows.
Considering this and their transition-planning strategy, the Browns decided to have a complete dispersal. Donnell and his wife, Kelli, had spent the last 20 years managing the seedstock herd. While his siblings love other parts of the ranch, seedstock is not their passion. So, if they split the seedstock herd, 75% of those papers would sit on the shelf.
Donnell and Kelli managed the work of the dispersal sale with the caveat that they could capture some embryos from the top cows of the family herd to keep the roots and genetics of that family business intact.
That dispersal helped keep the ranch in working order, and the other enterprises are thriving. He and Kelli can rebuild with those embryos as their environment improves. Each sibling and their children have been able to choose their own specialty like farming, horses or wildlife.
Tips for success
Wrapping up, Donnell offered several tips that helped his family establish their estate plan.
Start early. Nobody likes to face their mortality, but it is a fact of life.
Instead of focusing where not to step, focus on where you want to go. You'll go a lot farther faster.
Have you given your kids your blessing? He believes his dad has been so successful because he got his own traditionalist father's blessing to be progressive before he died.
Don't let your kids sit on the fence. Let them get their boots dirty doing things, even if they are things you like to do. Let them be involved in decision-making.
Get an expert who knows the laws and options available to you. Donnell pointed out laws change and options available to his ancestors are not available now, and vice versa. "It's so important to find an expert on these things," he emphasized. "None of us with manure on our boots probably does enough research to get the right tool that we need today."
Nobody has to change, but you'll be competing with people who do.
The Range Beef Cow Symposium XXVI was hosted Nov. 18-20 at the Mitchell Events Center at the Scotts Bluff County Fairgrounds, Mitchell, Neb. Sponsored by the Cooperative Extension Service and animal science departments of the University of Wyoming, South Dakota State University, Colorado State University and the University of Nebraska, the biennial symposium offers an educational program geared toward ranching in the West.
Angus Media provides online coverage of the event at www.rangebeefcow.com, courtesy of sponsorship by Leachman Cattle of Colorado. Visit the site newsroom for summaries of the sessions, proceedings and PowerPoint presentations provided by the speakers, and audio if available. For more information about the website, contact the editorial team at 816-383-5200.
---
Editor's Note: This summary was written under contract or by staff of the Angus Media, which retains the copyright. To request to reprint this article, contact Shauna Rose Hermel, editor, at 816-383-5270. PowerPoints are posted with permission of the presenter and may not be reproduced in whole or in part without the express permission of the presenter. Angus Media claims copyright to this website as presented. We welcome educational venues and cattlemen to link to this site as a service to their audience.
Angus Media's coverage of the event is made possible through collaboration with the event committee and via sponsorship of Leachman Cattle of Colorado. For questions about this site, or to notify us of broken links, click here. Look for additional coverage in the Angus Journal, the Angus Beef Bulletin, the Angus Journal Daily, and the Angus Beef Bulletin EXTRA.