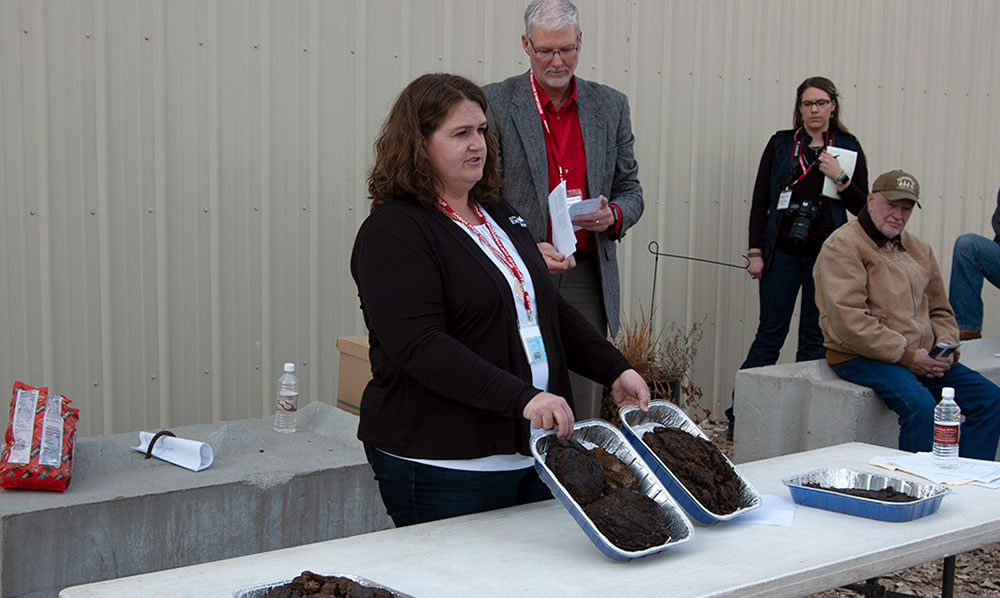 Above: "We believe a better way to track nutritional status of cattle is by monitoring body condition score plus regular observation of manure consistency," said SDSU's Adele Harty.[Photo by Troy Smith]
Cowpie-ology: Does NUTBAL Work?
MITCHELL, Neb. (Nov. 19, 2019) — The Near Infrared Reflectance Spectroscopy (NIRS) and the Nutrition Balance Analyzer (NUTBAL) system were developed by Texas range scientists for the purpose of monitoring whether the diets of grazing cattle are adequate to meet nutritional requirements. The USDA's Natural Resource Conservation Service (NRCS) has offered NIRS/NUTBAL as an option for monitoring nutrition among cattle of producers enrolled in the Conservation Stewardship Program (CSP).
During the 26th Range Beef Cow Symposium hosted Nov. 18-20 in Mitchell, Neb., animal scientists from the University of Nebraska and South Dakota State University explained how CSP-enrolled producers collect fecal samples from pastures and submit them to a Texas A&M laboratory for analysis. In theory, producers could use the results to make management decisions such as determining when their animals need supplemental protein or energy.
Nebraska's Jay Jenkins and South Dakota's Adele Harty also told how each of their universities had been contacted by multiple ranchers that questioned the reliability of NIRS/NUTBAL results. In some cases, for example, NIRS/NUTBAL results indicated diets were inadequate, cattle were losing weight and supplementation was needed when, in fact, the animals were obviously gaining body condition while grazing high-quality forage.
"We ran trials in Nebraska and in South Dakota, analyzing the actual diets consumed by animals and comparing that with results of (NIRS/NUTBAL) analysis of manure from the same animals," explained Jenkins. "In short, fecal analysis didn't work — at least not for us. In our Nebraska trials, it consistently overestimated TDN (total digestible nutrients, an indicator of energy), and crude protein (CP) was a crapshoot. Sometimes it was overestimated, and sometimes it was underestimated."
According to Harty, South Dakota trials also found the fecal analysis-based method did not consistently or accurately estimate the nutrient value of forages. The trial results suggest that nutrition management based solely on NIRS/NUTBAL analysis could result in the purchase of unnecessary feed supplements and reduced profitability.
"We believe a better way to track nutritional status of cattle is by monitoring body condition score plus regular observation of manure consistency," said Harty, explaining that a high passage rate with very loose and sloppy stool typically is associated with diets relatively high in protein. Lower protein levels typically are associated with a slow passage rate and drier manure.
Listen to Jenkins' and Harty's introduction and download the proceedings to this presentation in the Newsroom at www.rangebeefcow.com.
The Range Beef Cow Symposium XXVI was hosted Nov. 18-20 at the Mitchell Events Center at the Scotts Bluff County Fairgrounds, Mitchell, Neb. Sponsored by the Cooperative Extension Service and animal science departments of the University of Wyoming, South Dakota State University, Colorado State University and the University of Nebraska, the biennial symposium offers an educational program geared toward ranching in the West.
Angus Media provides online coverage of the event at www.rangebeefcow.com, courtesy of sponsorship by Leachman Cattle of Colorado. Visit the site Newsroom for summaries of the sessions, proceedings and PowerPoint presentations provided by the speakers, and audio if available. For more information about the website, contact the editorial team at 816-383-5200.
---
Editor's Note: This summary was written under contract or by staff of the Angus Media, which retains the copyright. To request to reprint this article, contact Shauna Rose Hermel, editor, at 816-383-5270. PowerPoints are posted with permission of the presenter and may not be reproduced in whole or in part without the express permission of the presenter. Angus Media claims copyright to this website as presented. We welcome educational venues and cattlemen to link to this site as a service to their audience.
Angus Media's coverage of the event is made possible through collaboration with the event committee and via sponsorship of Leachman Cattle of Colorado. For questions about this site, or to notify us of broken links, click here. Look for additional coverage in the Angus Journal, the Angus Beef Bulletin, the Angus Journal Daily, and the Angus Beef Bulletin EXTRA.