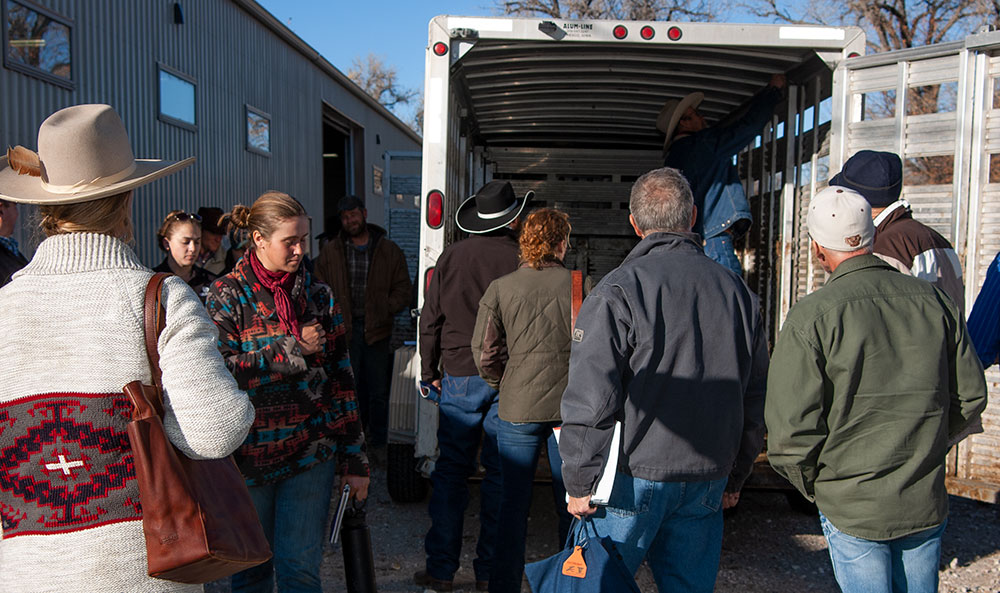 BQA Stock Trailer Walk-Around
Inspecting your truck and trailer safeguards people and cattle.
MITCHELL, Neb. (Nov. 18, 2019) — Management practices related to the transportation of livestock were discussed during the 26th Range Beef Cow Symposium hosted Nov. 18-20 in Mitchell, Neb. As part of a series of sessions focused on beef quality assurance (BQA), University of Nebraska Extension Educator and Director of BQA Rob Eirich led participating producers through a "trailer walk-around." He advised producers to go through a safety checklist every time they hitch up a trailer.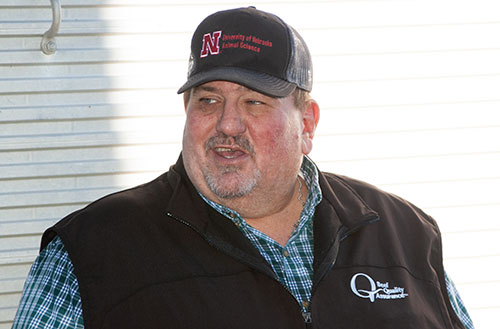 "It's not just a safety issue," Nebraska Extension Educator and Director of BQA Rob Eirich said of the importance of trailer inspections. "It's also about minimizing bruising or injuries that can affect beef quality." [Photos by Troy Smith]
"Very few of us do that, but we should. Taking a few minutes to check out our trailer could save us a lot of time and trouble," said Eirich, emphasizing that it's about protecting the well-being of animals and humans alike. "It's not just a safety issue; it's also about minimizing bruising or injuries that can affect beef quality."
Eirich said producers should know their trailer's gross combined vehicle weight rating (GCVWR), which is the maximum limit for the combined weight of the loaded trailer and tow vehicle. Typically, the GCVWR is displayed with the trailer's serial number or in the operator's manual. Remember that it's about loaded weight, which includes passengers and fuel, as well as cargo.
According to Eirich, producers should perform the following inspections routinely:
Before every trip, check hitch latches, safety chains and electrical connections between trailer and tow vehicle.
Make sure electrical wiring is in good condition and all lights (brake light, turn signals and taillights) on the trailer and tow vehicle are operational.
Inspect the brake system, and test it using the manual control mounted in the tow vehicle.
Examine tires for tread wear and make sure all tires carry the correct air pressure. Don't forget the spare. Eirich suggested using the old penny test when scrutinizing tire tread. Insert a penny into the tire's tread groove with Lincoln's head upside down. If all of Lincoln's head is visible, the tread depth is insufficient and the tire should be replaced.
Check trailer wheel lug nuts and make sure they are tight.
Repack or replace trailer wheel bearings as necessary.
Inspect trailer flooring on a regular basis, and make needed repairs. Eirich noted that rubber mats help improve footing for livestock during transportation. However, smooth rubber mats can be slick when wet. "Those mats made from woven tire tread provide excellent footing," said Eirich, "but when manure builds up, they also become slippery. Trailer floors and mats need to be cleaned routinely."
Before loading livestock, make sure that trailer gate and door latches are in working order.
Listen to one of Eirich's three presentations in the Newsroom at www.rangebeefcow.com.
The Range Beef Cow Symposium XXVI was hosted Nov. 18-20 at the Mitchell Events Center at the Scotts Bluff County Fairgrounds, Mitchell, Neb. Sponsored by the Cooperative Extension Service and animal science departments of the University of Wyoming, South Dakota State University, Colorado State University and the University of Nebraska, the biennial symposium offers an educational program geared toward ranching in the West.
Angus Media provides online coverage of the event at www.rangebeefcow.com, courtesy of sponsorship by Leachman Cattle of Colorado. Visit the site Newsroom for summaries of the sessions, proceedings and PowerPoint presentations provided by the speakers, and audio if available. For more information about the website, contact the editorial team at 816-383-5200.
---
Editor's Note: This summary was written under contract or by staff of the Angus Media, which retains the copyright. To request to reprint this article, contact Shauna Rose Hermel, editor, at 816-383-5270. PowerPoints are posted with permission of the presenter and may not be reproduced in whole or in part without the express permission of the presenter. Angus Media claims copyright to this website as presented. We welcome educational venues and cattlemen to link to this site as a service to their audience.
Angus Media's coverage of the event is made possible through collaboration with the event committee and via sponsorship of Leachman Cattle of Colorado. For questions about this site, or to notify us of broken links, click here. Look for additional coverage in the Angus Journal, the Angus Beef Bulletin, the Angus Journal Daily, and the Angus Beef Bulletin EXTRA.