Crossbreeding in the Commercial Herd
Beef extension specialist questions why more cattlemen don't take advantage of crossbreeding.
MITCHELL, Neb. (Nov. 19, 2019) — Ever wonder why crossbreeding is not applied on more commercial cow-calf operations? It's a question that haunts University of Idaho Extension Beef Specialist Benton Glaze. During the 26th Range Beef Cow Symposium, hosted Nov. 18-20 in Mitchell, Neb., Glaze posed the question to an audience of mostly cow-calf producers, suggesting that more of them ought to consider how crossbreeding could enhance the profitability of their operations.
According to Glaze, cattle producers and members of academia have discussed the benefits of crossbreeding and reported the supporting results of crossbreeding studies. Glaze noted how 72% of respondents to the 2007 Beef Improvement Federation (BIF) survey indicated the ideal beef cow should be a crossbred animal. A similar number of respondents said the ideal feedlot steer is the result of crossbreeding. Yet a much smaller percentage of U.S. beef cattle operations actually practice crossbreeding. That's puzzling to Glaze, considering the advantages.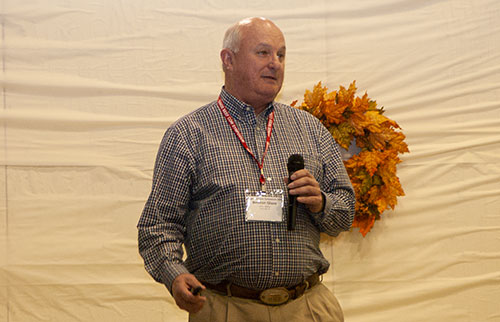 Crossbreeding has been likened to good intentions, said University of Idaho Extension Beef Specialist Benton Glaze. It's something that is not always carried out as one might like. [Photo by Troy Smith]
According to Glaze, the most discussed and documented advantage is heterosis. Also called hybrid vigor and sometimes described as the only free lunch in the cow business, heterosis is the performance advantage exhibited by a crossbred animal when compared to the average of straightbred parents of different breeds.
Heterosis is sometimes confused with heritability. Explaining the difference, Glaze said heritability is the amount of variation in a specific trait that is due to genetic factors rather than environmental factors.
"Heterosis for a trait is inversely related to the heritability of that trait," explained Glaze. "Therefore, lowly heritable traits, such as maternal ability, reproduction and longevity, exhibit greater levels of heterosis than highly heritable traits like carcass merit, skeletal size or mature weight. Since a large percentage of the variation in lowly heritable traits is due to environmental factors, versus genetics, they respond slowly to selection. But producers can make strides in improving lowly heritable traits through the use of crossbreeding."
Glaze said breed complementarity is another advantage offered by crossbreeding. Complementarity offers producers the potential to compensate for a deficiency in one breed's trait performance with the superior trait attributes of another breed.
"I don't think there is any one breed that fits every situation. All breeds have characteristics that are favorable and unfavorable," stated Glaze.
He advised producers considering crossbreeding to first identify their production and marketing objectives and consider carefully their production environment. Then crossbreeding can be applied to combine the superior attributes of two or more breeds to match the breeding herd to the environment and improve performance of traits that satisfy the target market.
"If you can tell me why that isn't being done by more commercial cow-calf producers, I'd really like to know," concluded Glaze.
Listen to Glaze's presentation, view his PowerPoint and read the proceedings accompanying his presentation in the Newsroom at www.rangebeefcow.com.
Angus Media provides online coverage of the event at www.rangebeefcow.com, courtesy of sponsorship by Leachman Cattle of Colorado. Visit the site newsroom for summaries of the sessions, proceedings and PowerPoint presentations provided by the speakers, and audio if available. For more information about the website, contact the editorial team at 816-383-5200.
---
Editor's Note: This summary was written under contract or by staff of the Angus Media, which retains the copyright. To request to reprint this article, contact Shauna Rose Hermel, editor, at 816-383-5270. PowerPoints are posted with permission of the presenter and may not be reproduced in whole or in part without the express permission of the presenter. Angus Media claims copyright to this website as presented. We welcome educational venues and cattlemen to link to this site as a service to their audience.
Angus Media's coverage of the event is made possible through collaboration with the event committee and via sponsorship of Leachman Cattle of Colorado. For questions about this site, or to notify us of broken links, click here. Look for additional coverage in the Angus Journal, the Angus Beef Bulletin, the Angus Journal Daily, and the Angus Beef Bulletin EXTRA.