Greg Ibach Talks About Trade and More
Former Nebraska ag director talks accessibility to the White House, trade and consumer perception.
by Troy Smith, field editor, Angus Media
MITCHELL, Neb. (Nov. 20, 2019) — Stepping to the podium, Greg Ibach admitted he is glad to get out of Washington, D.C., every so often. Ibach, former Nebraska director of agriculture and current USDA undersecretary for marketing and regulatory programs, was in Mitchell, Neb., for the 26th Range Beef Cow Symposium. He talked a little about trade and other issues of interest to an audience comprised of beef cattle producers from Nebraska, Colorado, Wyoming and South Dakota.
While he welcomes a break from the Beltway, Ibach said there are good things going on in Washington — good things for agriculture. Ibach called it significant that agriculture's voices are being heard.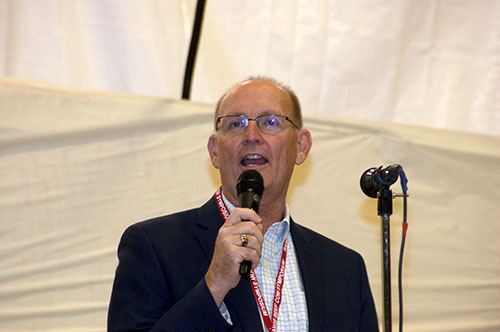 "Consumers don't want a heavy message with a lot of science," said Greg Ibach, USDA undersecretary for marketing and regulatory programs. "At the end of the day, consumers just want to know that producers share the same values." [Photo by Troy Smith]
"I don't ever remember a time when state departments of ag and ag commodity groups had the accessibility to the White House that they have right now. When the president talks about an agricultural issue, there's always a number of farmers around him. And you can usually find in the picture at least one cowboy hat, if not more," said Ibach, emphasizing that the Trump administration has made itself accessible to representatives of agriculture.
Ibach said the White House played an integral part in establishing USDA's role in the regulation of so-called "fake meat." USDA will have regulatory oversight of the processing, labeling and distribution of lab-cultured meat alternatives. The FDA plays a role, too, mainly for inspection, but Ibach called USDA's part a "big deal," particularly with regard to its oversight of what goes on the labels of those products.
Asked to talk about international trade, Ibach acknowledged that the United States produces a lot of food and needs access to the global marketplace. However, numerous countries have tried to "work around" agreements they made when they entered the World Trade Organization (WTO). They want to sell products to the United States, but offer excuses for not accepting U.S. products.
"Now the U.S. is standing up and telling them that to have free trade it must be fair trade," stated Ibach, noting successful negotiations to reduce barriers to trade with Korea and Japan that should drive beef sales. Ibach also said the United States-Mexico-Canada Agreement (USMCA) is needed and will help agriculture as much as any other sector. Regarding access to China, Ibach said it's been a matter of taking a few steps forward and then a step or two backward, but some progress is being made.
Ibach spent some time talking about the lack of understanding and communication gap between consumers and agricultural producers. Consumers want safe and affordable food, he said, but they are concerned about climate change and fear for the sustainability of the planet.
"I'm not saying they are right, but we do need to be aware of their perceptions and concerns," stated Ibach.
For their part, producers take a practical, commonsense approach, applying well-tested practices for food production. They just want to be allowed to do that, without excessive regulation. And, Ibach emphasized, producers need to be profitable.
Calling U.S. agricultural production practices the best in the world, Ibach lamented the fact consumers just don't understand those practices. As a result, if anything happens to cast producers and their practices in an unfavorable light, it chips away at the confidence consumers have in the food production system.
"Speaking as a producer, I think we have trouble understanding consumer views and expectations, and consumers don't understand producers. But we need each other," said Ibach. "So, as producers, we need to think about how we can communicate better. Consumers don't want a heavy message with a lot of science. At the end of the day, consumers just want to know that producers share the same values."
The audio to Ibach's presentation is available in the Newsroom at www.rangebeefcow.com.
The Range Beef Cow Symposium XXVI was hosted Nov. 18-20 at the Mitchell Events Center at the Scotts Bluff County Fairgrounds, Mitchell, Neb. Sponsored by the Cooperative Extension Service and animal science departments of the University of Wyoming, South Dakota State University, Colorado State University and the University of Nebraska, the biennial symposium offers an educational program geared toward ranching in the West.
Angus Media provides online coverage of the event at www.rangebeefcow.com, courtesy of sponsorship by Leachman Cattle of Colorado. Visit the site Newsroom for summaries of the sessions, proceedings and PowerPoint presentations provided by the speakers, and audio if available. For more information about the website, contact the editorial team at 816-383-5200.
---
Editor's Note: This summary was written under contract or by staff of the Angus Media, which retains the copyright. To request to reprint this article, contact Shauna Rose Hermel, editor, at 816-383-5270. PowerPoints are posted with permission of the presenter and may not be reproduced in whole or in part without the express permission of the presenter. Angus Media claims copyright to this website as presented. We welcome educational venues and cattlemen to link to this site as a service to their audience.
Angus Media's coverage of the event is made possible through collaboration with the event committee and via sponsorship of Leachman Cattle of Colorado. For questions about this site, or to notify us of broken links, click here. Look for additional coverage in the Angus Journal, the Angus Beef Bulletin, the Angus Journal Daily, and the Angus Beef Bulletin EXTRA.