Thriving at High Altitude
How should cow-calf producers use PAP scores and PAP EPDs?
MITCHELL, Neb. (Nov. 20, 2019) — Some people call it brisket disease because of the tell-tale sign of edema in an affected animal's brisket area. It's also called high-mountain disease because affected cattle are unable to withstand life at high altitude. Technically, it's right-side heart failure due to hypoxic pulmonary hypertension, and it typically affects susceptible cattle residing at elevations greater than 5,000 feet.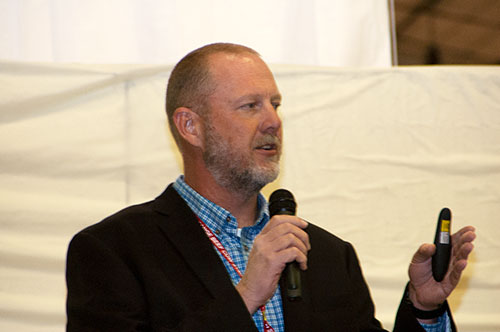 "PAP score, or phenotype, is the gauge for survival of the individual, and the EPD is the predictor of merit as a parent," stated Colorado State University Animal Scientist Scott Speidel. [Photo by Troy Smith]
During the 26th Range Beef Cow Symposium hosted Nov. 18-20 in Mitchell, Neb., Colorado State University Animal Scientist Scott Speidel discussed high-mountain disease and available tools for selecting cattle more apt to thrive at higher elevations. He explained how pulmonary arterial pressure (PAP) is an indicator of an individual animal's ability to do so. Generally speaking, a higher PAP score is associated with increased risk of developing high-mountain disease.
Given the heritability of PAP, some breeding programs implemented cattle evaluations for the purpose of developing genetic prediction values to aid in the selection of breeding animals suitable for producing progeny that are adaptable to production systems located at high elevation. The American Angus Association® was the first breed association to release breed-wide expected progeny difference (EPD) values for PAP. Low numerical values and particularly negative values are more favorable.
According to Speidel, cattle producers accustomed to using PAP scores to rank individual animals for adaptability to high altitude are less comfortable with the new EPD values. Further confusing the issue are animals that may have a high PAP score and a negative EPD value for PAP.
"It happens in some individuals, raising questions about which number we should use or not use for selection decisions," said Speidel. "It's important to consider both."
Speidel explained that the PAP score represents an animal's phenotype, which is the sum of both genetic and environmental factors. Sex, age, health history, body condition and the elevation at which PAP is measured will influence scores. When the goal is to identify individual animals having the best chance of survival at elevation, the PAP score is important. However, when identifying individuals that will produce progeny having a greater chance of survival at elevation, the EPD value for PAP should be used.
"PAP score, or phenotype, is the gauge for survival of the individual, and the EPD is the predictor of merit as a parent," stated Speidel.
Listen to Speidel's presentation, view his PowerPoint and read the proceedings accompanying his presentation in the Newsroom at www.rangebeefcow.com.
The Range Beef Cow Symposium XXVI was hosted Nov. 18-20 at the Mitchell Events Center at the Scotts Bluff County Fairgrounds, Mitchell, Neb. Sponsored by the Cooperative Extension Service and animal science departments of the University of Wyoming, South Dakota State University, Colorado State University and the University of Nebraska, the biennial symposium offers an educational program geared toward ranching in the West.
Angus Media provides online coverage of the event at www.rangebeefcow.com, courtesy of sponsorship by Leachman Cattle of Colorado. Visit the site Newsroom for summaries of the sessions, proceedings and PowerPoint presentations provided by the speakers, and audio if available. For more information about the website, contact the editorial team at 816-383-5200.
---
Editor's Note: This summary was written under contract or by staff of the Angus Media, which retains the copyright. To request to reprint this article, contact Shauna Rose Hermel, editor, at 816-383-5270. PowerPoints are posted with permission of the presenter and may not be reproduced in whole or in part without the express permission of the presenter. Angus Media claims copyright to this website as presented. We welcome educational venues and cattlemen to link to this site as a service to their audience.
Angus Media's coverage of the event is made possible through collaboration with the event committee and via sponsorship of Leachman Cattle of Colorado. For questions about this site, or to notify us of broken links, click here. Look for additional coverage in the Angus Journal, the Angus Beef Bulletin, the Angus Journal Daily, and the Angus Beef Bulletin EXTRA.