Wyoming Perspective:
What Worked? What Didn't

Wyoming rancher David True shares his best and worst decisions in the ranching business.
by Kindra Gordon for Angus Productions Inc.
CASPER, Wyo. (Dec. 3, 2009) — David True, manager of True Ranches in Wyoming shared his two best and two worst decisions as a ranch manager with Range Beef Cow Symposium attendees in Casper, Wyo., Dec. 3. True Ranches includes seven ranches, two farms and two feedlots located across Wyoming. Angus, black baldie, Charolais and Hereford cattle are raised by the ranches and finished at the feedlots.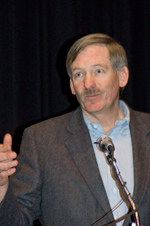 David True told symposium attendees that RFID and retained ownership were his best two decisions, allowing the Wyoming rancher to take advantage of improved genetics.True Ranches uses a three-way rotational crossbreeding program and, at one point, tried to take it a step further by implementing a four-way cross. The effort was unsuccessful, said True, as he ranked the four-way system as one of his worst decisions.
"We failed to manage it effectively and felt the quality of the calves from the four-way cross was inconsistent," said True. After four or five years, the four-way cross was abandoned and the ranch returned to its three-way-cross system, "which has been very good," True added.
Another failed attempt was the ranch's alignment with the now defunct Future Beef.
"Had Future Beef worked, it could have been one of our best decisions, but it turned out to be one of our worst decisions," True said. "I do believe this was one of the best concepts for our industry; it aimed to open communication channels from the consumer to the seedstock producer and involving all segments in between. Unfortunately, market conditions and some unanticipated implementation efforts resulted in Future Beef's failure and cost us the loss of our investment."
On a more positive note, True cited implementation of radio frequency identification (RFID) as one of the best tools the ranch has chosen to use during the last four or five years. It is helping with genetic management and chute-side decision-making. Additionally, it has allowed source and age verification of calves.
"This has allowed for premiums that have more than paid for the RFID program," True said.
Secondly, True said, "I believe one of our long-standing best decisions is retained ownership. Seven to eight years out of 10 it has been economically beneficial to us." He explained that retained ownership has allowed the ranch to take advantage of seasonal price peaks in the market and allows for taking advantage of their improved genetics.
"By directly seeing our calves' performance data, we can further continue to improve upon our genetics," he concluded.
See Troy Marshall's Colorado perspective.
See Kory Bierle's South Dakota perspective.
See John Maddux's Nebraska perspective.
Editor's Note: API's coverage of the event is made available for distribution to all media via an agreement with the Range Beef Cow Symposium Committee and API. Headquartered in Saint Joseph, Mo., API publishes the Angus Journal, the Angus Beef Bulletin, the Angus Beef Bulletin EXTRA, and the Angus e-List, as well as providing online coverage of events and topics pertinent to cattlemen through the API Virtual Library. For questions about this site, or to notifiy us of broken links, click here.