South Dakota Perspective:
What Worked? What Didn't?

South Dakota rancher Kory Bierle shares his best and worst decisions in the ranching business.
by Kindra Gordon for Angus Productions Inc.
CASPER, Wyo. (Dec. 3, 2009) — Western South Dakota rancher Kory Bierle listed relationships and modernization to better equipment as the two best decisions he's committed to as a rancher. Bierle and his family represent the sixth generation on the family-operated ranch near Midland, S.D. The operation manages commercial black baldie cows.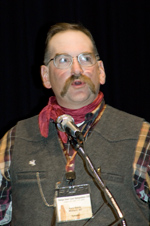 Midland, S.D., producer Kory Bierle said relationships, modernization have been his two best decisions.Bierle counted the investment in developing relationships as one of the most beneficial decisions for his family's ranching operation.
"Participation in industry events and meetings facilitates meeting fellow ranchers, Extension educators and specialists and allied industry leaders," he said. "It's fascinating what can be gleaned from these people."
He credited his father with giving him an eagerness to learn. "Dad always instilled in me an attitude to learn and gain knowledge," he said.
Bierle also listed updating and modernizing equipment on the ranch as a beneficial decision.
"We recognized that this investment in better equipment has helped us save time, energy and money, which all leads to a better quality of life," he said. He cited the investment in better fences, as well as the use of computers for recordkeeping and business analysis.
In determining his two worst decisions, Bierle said he wishes he would have left home after college to experience other aspects of the business and ranching worlds. He also cited trying to expand the cow herd and then experiencing several years of drought as a poor decision. As a result, the operation accumulated a high debt load to purchase hay and feed to maintain the herd. 
See David True's Wyoming perspective.
See Troy Marshall's Colorado perspective.
See John Maddux's Nebraska perspective.

Editor's Note: API's coverage of the event is made available for distribution to all media via an agreement with the Range Beef Cow Symposium Committee and API. Headquartered in Saint Joseph, Mo., API publishes the Angus Journal, the Angus Beef Bulletin, the Angus Beef Bulletin EXTRA, and the Angus e-List, as well as providing online coverage of events and topics pertinent to cattlemen through the API Virtual Library. For questions about this site, or to notifiy us of broken links, click here.