Welcome

Welcome to the Angus Journal's coverage of the 2013 Range Beef Cow Symposium (RBCS), which is scheduled to be Dec. 3-5, 2013, at the Rushmore Plaza Civic Center, Rapid City, S.D.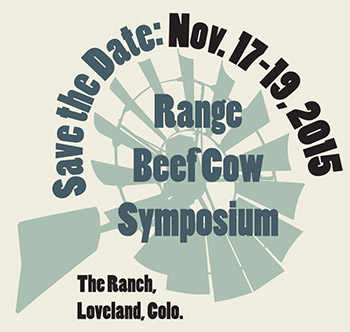 The Range Beef Cow Symposium is sponsored by the Cooperative Extension Service and animal science departments of the University of Wyoming, South Dakota State University, Colorado State University and the University of Nebraska. The biennial symposium has a reputation of being an excellent educational program, offering practical production management information since the first symposium in Chadron, Neb., in 1969.
The event rotates between Colorado, western Nebraska, western South Dakota and Wyoming. Focusing on beef production issues in the Western states, the symposium regularly attracts 800-1,200 attendees and more than 80 agribusiness booth vendors for the three-day event.
The Bull Pen Sessions are one of the most popular aspects of the symposium. This is a time for attendees to have considerable discussion with the speakers and an opportunity to ask specific questions. The majority of symposium speakers on Tuesday and Wednesday will be present in the evening following their presentations. To make it convenient to stay at the Civic Center between the program and the bull pen sessions, you may purchase a beef dinner at the Rushmore Plaza Civic Center.
Tickets can be purchased on the registration form.
Commercial displays representing many segments of the industry are an integral part of the symposium. Exhibitors will be present to introduce new products and discuss their product lineups.
Prior to the conference, this website will feature hotel and registration information, a schedule of the symposium and an archive of the Angus Journal's coverage of the 2003, 2005, 2007, 2009 and 2011 events. During and after the conference, Angus Journal will post summaries of the sessions, along with the PowerPoint presentations and proceedings, if available, and video coverage as provided by the American Angus Association public relations team. Go to the Newsroom page for coverage.
Symposium registration, including three days, two lunches and a proceedings, is $90 if paid prior to Nov. 15. Evening dinners are extra. Single-day, spouse/employee and student registrations are also available. To download a registration, click here. To register online, click here.
The conference committee is accepting vendor signup now. One 10x10-foot space with an 8-ft. table and one registration is $750. You can purchase two exhibit spaces for $1,000. Outdoor or outbuilding exhibit space and corporate break sponsorships are also available. To reserve your exhibit space online, click here. For online vendor registration, click here. Vendors will also be recognized under the "Sponsors" tab of this website.
For more information about the symposium, contact Julie Walker at 605-688-5458 or Ken Olson at 605-394-2236. For more information about this website, contact Shauna Hermel at 816-383-5270.
Editor's Note: The articles used within this site represent a mixture of copyrights. If you would like to reprint or repost an article, you must first request permission of the Angus Journal by contacting the editor at 816-383-5200; 3201 Frederick Ave., Saint Joseph, MO 64506. Angus Journal claims copyright to this web site as presented. We welcome educational venues and cattlemen to link to this site as a service to their audience.